UCP Seguin is fortunate to have talented and dedicated staff that work hard every day to fulfill our Mission. Each year staff nominate those of their peers that have gone above and beyond their daily duties to ensure that those we serve receive the highest quality of care and support. Here are this year's honorees: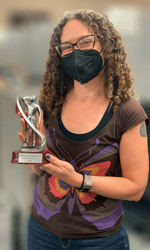 Deva Suckerman
One Piece At A Time
According to Shahab Astabraghpour, this Shooting Star believes that everyone can make a positive difference in the lives of others. Deva Suckerman carries and communicates that belief across the boundaries between her personal life as an artist and her professional life as an In-Home Therapist at UCP Seguin. Her persistence and insistence that we all can make a real impact on others is why Shahab works at UCP Seguin and it's why he nominated her for a Shooting Star Award.
One of the kids she provides therapy to (we'll call him Joe although that's not his real name), has some significant mental health issues that over the years have been difficult for him to appropriately and functionally manage. He says that Deva has taught him how to compartmentalize things in his life so that he can more effectively deal with large issues in smaller, more manageable pieces because for him, looking at the big picture sometimes can be daunting and nearly impossible for him to deal with. But, with Deva teaching him how to break his tasks and concerns down into digestible pieces, each step of whatever he happens to be dealing with has its own goal. Those smaller goals eventually lead to big solutions. Joe has stated that Deva's intervention specifically with teaching him to look at things from a different perspective has had such a positive impact on his ability to cope. While this might seem like a simple solution for some, for Joe it was a game-changer; he is much better equipped to deal with his day-to-day interactions because of Deva's advice and support. And according to Shahab, Joe's progress is really impressive! He has gained a healthier understanding of himself and of life in general.
Not only does Deva SAY you can make a difference, Deva herself DOES it every day and her patients are the ones who are telling others about how much she's helped them to better manage their mental health challenges. Deva, on behalf of Joe and all of the people who are lucky enough to have you as their therapist, I thank you! You are a Shooting Star!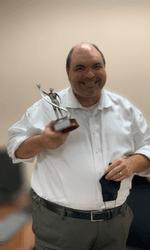 Jay Lerch
Prince of Payroll
Although it may not always be easy to see, every person's job at UCP Seguin – even those whose jobs are quite removed from program services - is a spoke in the wheel that keeps things turning and helps to support the mission of the organization; life without limits for people with disabilities.
We had learned through deep analysis of the payroll processes that they were in dire need of change. They were time-consuming, prone to error, paper-intense, and deadlines were being missed because of all of these things which ultimately was resulting in bank fees due to chronic late submissions.
On February 1st of this year, Jay Lerch joined UCP Seguin as its Payroll Manager. After just one pay cycle, Jay took the lead on payroll processing and from that point forward, has continued to ensure that payroll is accurate and complete. He has continually taken the initiative to investigate any and all payroll issues as they come up and regularly introduces process changes or controls to ensure against ongoing issues and errors. And, he involves managers across the agency when there are changes so that everyone understands and "owns" payroll collectively. Oh, and since Jay joined the team, there have been zero late payroll submissions and no bank fees because payroll is ALWAYS submitted on time!
Paul Behrman, who nominated Jay for this award, says that Jay's efforts and his team approach, his "can-do" attitude, initiative, problem-solving skills, taking on of both responsibility and accepting accountability for successes as well as when things don't go quite as planned has resulted in positive payroll solutions.  Changes in processes have led to better efficiency and much more consistent accuracy and has saved the agency from spending thousands on unnecessary bank fees!
Although he's been here less than a year, Jay has stepped in and stepped up. He is a Shooting Star!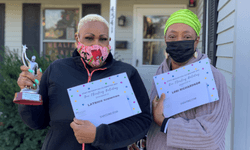 Leatrice Simmons & Lori Richardson
Springing Into Action
Alberta Reed told us the story of a steamy Friday night in late July and the senior ladies at 4541 Joliet Avenue were at home and anticipating spending a relaxing weekend with their two dedicated staff members, Extended Support Specialists Leatrice Simmons and Lori Richardson.
At about 9:30 that evening, Leatrice called her supervisor to tell her that she smelled something strange, like something electrical was burning, but she couldn't initially figure out where the smell was coming from. She had checked everything that she could think of – the appliances and the home's air conditioning unit – but was unable to pin down the source of the smell.
A few minutes later, Leatrice noticed smoke coming from the kitchen's ceiling light fixture! She and her co-worker Lori did not hesitate even for a moment. They assisted everyone to safely evacuate and immediately called 911. The fire department came to the home, inspected, and gave the all-clear signal for re-entry to the house.
Thanks to Leatrice's keen observation and the quick action of both Leatrice and Lori, a potentially disastrous situation was averted. The residents of 4541, the staff, and the house itself were all safe and notification to maintenance resulted in the problem being addressed.
A warm and sincere thank you to Leatrice and Lori for observing and acting, ensuring the safety of everyone at 4541. You are both Shooting Stars!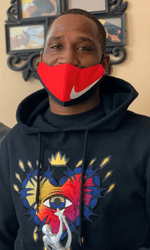 Calvin Mullins
Suited and Booted
There are few people that can really be called a "jack-of-all-trades" so when we come across someone who truly fits that description, it's not only rare but it's something that we covet. Because who doesn't need a jack-of-all-trades?
Calvin Mullins, Extended Support Specialist at 1310 Wenonah, fits that description perfectly! He is always available and he's willing and able to just about anything that needs to be done. He has a great relationship with the men who live at 1310 as well as with his co-workers who rely on him every single day.
Calvin likes to get the guys out into the community regularly and he has had much influence on them taking pride in their appearance. He helps to make sure that grooming is kept up to a "t" by ensuring hair is well cut and combed and faces are clean shaven. He even shares his own cologne with the guys because it makes them feel extra clean and special. When they're ready to go out on the town, all cleaned up and smelling great, Calvin's famous quote is, "Now they are suited and booted!"
According to his co-workers and nominators Erma Ridgell and Renisha Rogers, Calvin is not only an ESS – he is also a barber, a janitor, a maintenance man, a delivery service, the overtime king, a team player, and most importantly, a kind, sweet, and selfless person who has dedicated his life to serving others.
Thank you, Calvin, for all that you do for the guys at 1310 and at other homes, too, when you are called upon to work elsewhere.  You are truly a Shooting Star!