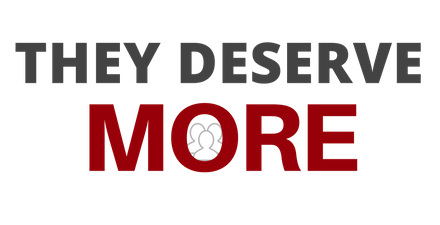 People with intellectual and developmental disabilities deserve the opportunity to lead full, meaningful lives. But they must have support for everything from eating, bathing and administering medication to job and life-skills training. That support comes from a statewide network of nonprofit provider agencies and their dedicated, trained workforce of direct support professionals (DSPs).
For decades, the state has failed to adequately fund nonprofit provider agencies that serve people with disabilities. Due to vigorous advocacy by the They Deserve More Coalition, over the past four years the state, has increased reimbursements in small increments to help. And during the pandemic, the state provided temporary rate increases to mitigate the financial impact of the coronavirus. Still, more and more providers have been forced to shut down or curtail programs and turn people away who need and deserve support. The wait list for services is more than 18,000 in Illinois.
During the COVID-19 pandemic, these already-strained provider agencies have risen to the immense challenge of continuing to serve people with disabilities. DSPs have been risking their own health and family time daily to keep people with disabilities safe and healthy. Sadly, these frontline heroes continue to be among the low-income workers hit hardest by the pandemic's economic and societal fallout. Nationally, 86% of DSPs are women and nearly 60% are people of color, which is consistent with Illinois' provider agencies. So it's not just a matter of what's right for those with disabilities, it's also a matter of equity.
We now have a clear roadmap to solve the crisis facing people with disabilities in Illinois. In December 2020, the Illinois Department of Human Services released the results of a two-year, independent study commissioned to determine the level of state funding needed to stabilize our nonprofit provider system (see executive summary on pages 1-3). The study, conducted by Guidehouse Inc., identified a series of recommendations to adequately reimburse provider services, and to keep pace with upcoming minimum wage increases in Chicago and across the state.
The state must make a meaningful investment in the community system and its frontline workers - as recommended by the Guidehouse study.
Governor Pritzker announced an additional $77 million dedicated to supporting people with disabilities in his budget address February 17. While that is greatly appreciated, it is less than one quarter of the study recommendations, which cite more than $329 million needed to stabilize the community system. This year's budget must include enough funding to make meaningful progress toward implementing the Guidehouse recommendations. It is imperative that legislators ensure that our state's most vulnerable citizens are not left behind.
Support Senate Resolution 169 and House Resolution 194 and Senate Bill 578 and House Bill 1818!
People with disabilities deserve more – they need caregivers who earn a living wage.