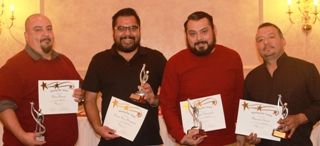 Pete Rivera, Tomas Ruiz Dominguez, Armando Garcia and Miguel Valenzuela
Feed The World
When we think of the combination of food and cars, there are a few things that might come to mind; drive-through restaqrants maybe or if you're particular about the cleanliness of your car and someone wants to eat or drink something in it, you might think " you better not spill your food in my car." There are some other car+ food scenarios that I am missing, but you get the picture. 

Please understand that the Seguin Auto Center staff, who aside· from picking up donations, are primarily responsible for running the operations of the car wash. That itself is a big responsibility. It's not just the washing cars, but it's the relationship building, the excellent customer service, the working with participants to hone their job skills, and acting as salespeople. Plus, the auto center staff are responsible for the weekend flea markets, which now are running year round. As far as we know, this group of staff had no experience with food in any respect except for picking up bread donations from Costco. And eating. Maybe some cooking at home. You get the drift, though. 

Costco told our auto center staff that they really would like to give UCP Seguin more donated food, but they couldn't, per their corporate policy, because UCP Seguin was not an official food pantry partner of the Chicago Food Depository. That statement was all they needed to hear. 
Pete Rivera and Tomas Ruiz Dominguez took the lead initially and did the research to learn how UCP Seguin could become an official partner of the Greater Chicago Food Depository. Once they did that, they were instrumental in figuring out how to take a long abandoned warehouse space and convert it into a clean and safe pantry space. They convinced administration that they could make this happen. 

Having our own food pantry was a great idea, but remember that any interruption in the operations of the auto center was not going to be an option. So in stepped Armando Garcia and Miguel Valenzuela to ensure that the auto center would continue on as always and the two of them would make sure that jobs for the participants and services to the community would not be interrupted while Pete and Tomas worked on the food pantry project. 

The UCP Seguin Food Hub opened for business in April of this year. It is open three days each week for nine hours each day and averages over 120 visits from participants, families, foster parents in both the adult and children's programs and staff. The Greater Chicago Food Depository connected UCP Seguin with several food partners that donate weekly to our pantry, including three local Aldi stores and two Targets plus deliveries from the depository twice a month. The Food Hub picks up and receives about 18,000 pounds of food every single week! 

The initiative shown by Pete, Tomas, Armando, and Miguel is absolutely commendable. They saw an opportunity, reached for it, and turned a small donation from Costco into a fully functional food pantry that feeds dozens of people every week. We don't have numbers yet because it's too new, but we are projecting that there will be less money spent in the CILA homes on groceries - a very significant expense for the agency in spite of the participants having LINK benefits! 

Many thanks to Pete, Tomas, Armando, and Miguel for your ideas, initiative, dedication, determination, organization, persuasion, and all of the other adjectives that could be used to describe just how shooting star worthy each of you are individually and especially as a team. You are the winners of the "Feed the World" award! Thank you for all you do!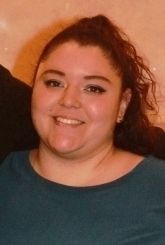 Carolina Cordova-Bedolla
It Takes a Village
When we tell people that we work at UCP Seguin and we explain what we do and who we serve, most of us have probably heard, "it takes a special person to do that kind of work." We might smile and say thank you, and although we probably don't say it out loud, some of us might be thinking, "it doesn't feel that way at all and the people we serve are just as important in our lives as we are in theirs and I love what I do and I love that I can help make a positive difference in the life of someone· else." Maybe something to that effect, anyway. 

Life Skills Mentor Carolina Cordova exemplifies what it is to be a positive influence in the lives of other people. She has always performed her mentor responsibilities with patience, respect, positive energy, and professionalism. Let's not forget creativity, effective communication, and FUN! When it comes to creativity, Carolina plans, researches, and maps out ideas and activities that will foster growth, with an ever-present emphasis on ensuring the opportunity for individual choice. When it comes to effective communication and relationship-building, she's top notch and when it comes to fun ... well, just ask the consumers if they have fun when they're with Carolina. 

Two years ago, Carolina approached the Riverside Library and asked if they would be open to allowing UCP Seguin to showcase our consumers' artwork in a wing of their library. They said YES and for two years in a row now, UCP Seguin has been welcomed into the library and embraced by the community, who are seeing the gifts and abilities of the people we serve instead of their disabilities. Ms. Huston from the library recently reached out to Carolina again, asking her if it would be ok for the library to showcase our consumers' ceramic pieces and so Carolina was able to facilitate the planning for the entire art exhibit at the library. This was a major win for our consumers and for UCP Seguin. How great is it that our consumers now have the opportunity to exhibit their artwork for the public and to potentially sell it for a profit? How great is it that members of the Riverside community are getting to know our consumers and know our agency better because Carolina reached out and has built a solid relationship with the library community? 

Besides the library initiative, Carolina recently approached the Day Services Director and asked for the green light to start a "Fashion Runway Class" as a means of engaging consumers to feel beautiful inside and out. They will work on skincare, poise, good posture, healthy eating, and personal hygiene. She has worked with the day program graphic design class to create welcome cards for new hires, which is a great way to meet new staff face-to-face and adds a personal touch to on-boarding. 

Carolina does so much to enrich the lives of the people UCP Seguin serves. She embodies the oft ­heard phrase, "it takes a special person to do what you do." We are so glad that she is part of UCP Seguin and are excited to present her with the "It Takes a Village" award. Congratulations, Carolina! You're a shooting star!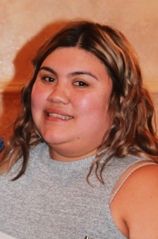 Isamar Corona
Just Do It
There are some people that always have a "get up and go" attitude and they fill a room with positive energy. They are "can-do"people and are rarely, if ever, are they naysayers! When faced with a challenge that most would not be willing to try, the response is always "how can we make this happen?" There is someone at UCP Seguin who is exactly like this!
Isamar Corona truly embraces the belief that our participants should be actively involved in the community. Time after time, we hear stories about how Isamar is always ready and willing to help, whether that be by volunteering her time to facilitate opportunities and activities, providing transportation for people who would otherwise not be able to participate in various goings-on, or just being there to help out and have fun. Just this year, she has volunteered at "Stay Up Late Dance'"', walk-a-thons, volunteer luncheons, circus trips, hunger walk...and there are undoubtedly more!
Because that's what Isamar does; she figures out how to make things happen for everyone, no matter what the circumstances, and then she makes sure that those things actually do happen by being there herself, in person, every single time!
Something that Isamar did this year that is really important to mention is that she made Community Connections an option for any consumer who was interested in being part of that program. She did not do this without some planning, of course; our consumers have a variety of different needs and interests and she had to be sure that she could realistically initiate something so radical...and some would think it was radical for sure! In spite of the absolute fact that many challenges existed, Isamar went forward with her vision and provided trial experiences for consumers who were interested in potentially being part of community connections. It was a huge success. In just a short time, Isamar increased Community Connections North by 69%! She was successful because she believed: she believed in herself and more importantly, she believed in the consumers.
Oh yeah, Isamar was just promoted to the position of Life Skills Administrator, too. Most deserved, I might add.
Her tireless enthusiasm, her belief in herself and the consumers, her tireless dedication, her determination to provide experiences even when there are sometimes complicated variables is just WOW. That word "WOW" is Isamar in a nutshell. Her supervisor says so. He always says
thank you for BELIEVING! Congratulations, Isamar, on all of your successes and this is just the beginning! You are the recipient of the "Just Do It" award and you, Isamar Corona, are a shooting star!