The Parenti Family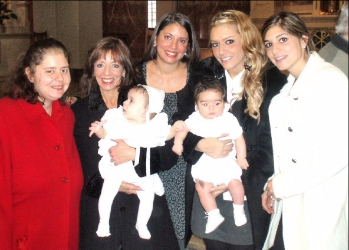 Inspired by UCP Seguin participant and cherished family member Addy, the Parenti family – Debbie Parenti,Liz Parenti Perez, Chrissy Parenti Michaud, and Rachel Parenti Rezny – have given generously in multiple ways to benefit individuals with disabilities. Debbie is mother to Addy, who has intellectual and developmental disabilities. She has instilled a sense of responsibility and commitment in each of her daughters to assist Addy in achieving all she can and being all she can be, while also supporting others like Addy.
In addition to contributing of their own treasure and time, Parenti family members have introduced their extended community of family and friends to UCP Seguin through special events and other fundraising activities. Addy is very much a part of these various activities, showing she is not only a big part of the family but also included in the mainstream of society. The Parenti family's multi-faceted efforts have also brought about greater awareness of persons with mental disabilities, thereby reducing the stigma
associated with disability and increased acceptance of people like Addy in their community.
The Parentis have participated and invited others to join in walk-a-thons to generate precious funding and raise awareness, and have periodically hosted parties to raise funds to support Addy and other people with disabilities. This past year Addy's sister Rachel chaired a committee at Ascension Church in Oak Park, which dedicated their Christmas Cookie Walk fundraiser to individuals served at UCP Seguin. Addy's family seeks to do everything in their power to help her fulfill the UCP Seguin mission: to achieve her potential, advance her independence, and act as a full member of the community. They have advocated for new funding streams to provide high quality services, and for continuing education of the public in understanding, accepting and celebrating individuals with intellectual and developmental disabilities. The Parenti Family truly exemplifies philanthropy across the many ways it can be expressed.