Steve & Jeanne Kirby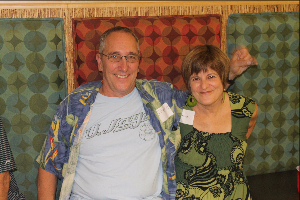 Steve and Jeanne Kirby have given generously of their time and treasure to over the past two decades. Steve served on the Board of Directors of Seguin Services for eleven years, from 2000 to 2011, in top leadership roles for nearly half of that time, serving as Board Secretary for two years and Vice President for three years. In addition, he served on several committees including chair of the Human Resources Committee for seven years, and as member of the SeguinWorks Advisory Committee, the Constitution & By-Laws Committee and the Nominating Committee.
Moved to act by their nephew Dan, Steve and Jeanne have shown tremendous dedication and commitment to the UCP Seguin cause. As part of his many contributions, Steve ran the Washington D.C. Marathon and raised nearly $5000 for the organization. To commemorate the memory of his sister Pat's late husband, Steve worked with Jeanne to conduct the Jerry Parker Memorial Sox Outing for four years,
raising over $25,000 through this event. In conjunction with his sister Pat, Steve led efforts along with Jeanne in conducting the Parker Porker Pig Roast for two years, raising nearly $35,000 in memory of Jerry Parker and Pat and Jerry's late son Sean. Steve and Jeanne have consistently contributed of their own treasure at a significant level, including financial gifts as well as valuable in-kind donations. In addition, they have generated additional major support by connecting their family, friends and associates to the UCP Seguin cause.
Through their heartfelt and substantial gifts of time, talent and treasure, the Kirby and Parker families – and their extended community of friends – have made a huge difference in the lives of individuals with disabilities, enabling children and adults with disabilities to achieve their potential, advance their independence and act as full members of the community. Their contributions have been recognized with UCP Seguin's highest honor: the naming of one of its group homes, located in River Forest, now known as the Kirby-Parker House. Through their longstanding support, Steve and Jeanne Kirby have demonstrated the spirit of philanthropy across multiple domains, and to the enormous benefit of UCP Seguin and the people it serves.