Stan & Chris Patek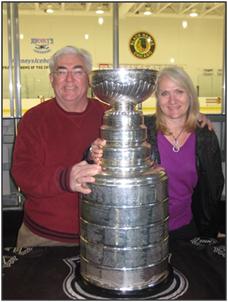 For more than three decades Stanley F. Patek and his wife Christine have been among UCP Seguin's most generous donors. They have been primary supporters of our fundraising activities, providing sponsorships through the Patek & Associates accounting firm, and regularly participating on an individual basis as well as through family, friends and associates.
But in addition to financial support this dynamic duo has provided much more for UCP Seguin. Stan, a Brookfield resident and head of his own CPA firm based in Riverside, has been an anchor for the organization during his long tenure as a member of and officer for the Board of Directors as well as a Finance Committee member. In 2001, after having served 17 years on the Board, Stan was recognized by the
agency for his dedicated service, with the Community Integrated Living Arrangement home at 4441 Madison in Brookfield named in his honor. But Stan never "left", as he and Chris have continued their solid support of UCP Seguin. Stan has maintained his role on the Finance Committee and in the past year he rejoined the Board, where he provides wise counsel, historical perspective, positive energy, and passion for the cause of people with disabilities.
Stan first joined the Board in July of 1982, serving several sets of consecutive terms through 2000. For many of these years he served in an executive officer capacity – President, Vice President, and Treasurer. He has continued to serve as a member of the Finance Committee even after his Board membership ended in FY2000. He has shown remarkable stewardship over the organization's financial resources during his tenure as Board and Committee member, playing a pivotal role during the agency's significant growth to meet community need. Stan's focus on fiscal controls and assistance in securing favorable financing greatly assisted the agency in attending to attend to the complex needs of hundreds of persons with disabilities.
Due to Stan's leadership, the organization has been able to develop a reputation as a pacesetter for community integrated services. During his tenure the organization closed its segregated sheltered workshop program, and developed alternative day services programs to enable more people with disabilities to work, volunteer, learn and live alongside their peers without disabilities. With his support residential services have grown significantly while providing high quality services, enabling people with disabilities to live in real family homes in sites scattered throughout the Greater Chicago area.
Besides his outstanding work as an accountant and UCP Seguin Board member, Stan is an "all-around", multi-talented individual in other domains. He is a skilled musician, adding his distinctive trumpet sound to band performances for decades. Stan is also a member of the Chicago 16 Inch Softball Hall of Fame, playing with and managing teams and bringing them to national prominence.
Between them, Stan and Chris Patek illustrate philanthropy in every way it can be expressed – through time, talent, and treasure – and UCP Seguin is all the better for their generosity.