Sophie & Maria Winn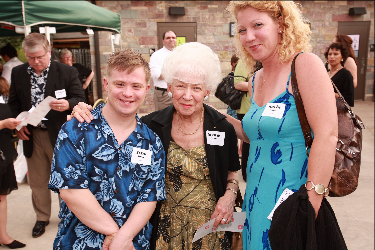 Sophie Winn and her daughter Maria have been active supporters of UCP Seguin since 1997, when Seguin Services began providing services to their son and brother John. While John has Down syndrome, his mother and sister have always believed he can live – and deserves to live –a happy and robust life, fully integrated into the community. UCP Seguin has played its role in bringing "life without limits" to John. Through their generosity and advocacy the Winns have been especially instrumental making John's experience with UCP Seguin so successful.
Since graduating from high school, John has benefited from a variety of services from various agencies to meet his needs and interests, such as the residential and day services provided by UCP Seguin, as well as extracurricular, athletic activities, and summer camp through other area organizations. His mother and sister have not only been grateful for these services, but they are sensitive to challenging funding environment faced by UCP Seguin and other charitable organizations. As a result they have chosen to be especially generous with their resources, knowing they can make a difference not only in John's life but in the lives of his peers.
Beyond their regular and ongoing contributions of their treasure, Sophie and Maria have regularly attended organizational meetings for family members of agency participants. At these meetings they have provided helpful input on services, while learning more about how they can advocate for important legislation and much-needed funding. Their advocacy and support has been particularly valuable as UCP Seguin has experienced significant growth over the past several years. They have also sustained UCP Seguin's programs by attending all fundraising events as a family, helping to enrich John's life, while providing additional, much-needed financial assistance to UCP Seguin.
For the past decade Maria has also served on the board of another local agency which offers summer camps and other services to area families of children and adults with disabilities. She has provided volunteer help to a local special recreation community organization for children and adults with disabilities.
The Winns' sincere desire to benefit John and other people with disabilities is readily evident…and UCP Seguin and other community organizations are all the better for the spirit of philanthropy exemplified by Sophie and Maria Winn.