Rose & Rich Smith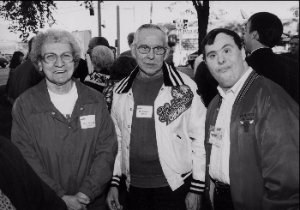 When Richard "Rick" Smith Jr. was born with Down syndrome some 47 years ago, his parents Rose and Rich Smith were determined to make the life of their only child the best it could be. With that in mind, when he was three years old Richard's parents arranged for him to attend the original Seguin School, where he was offered the chance to develop, learn and grow just like anyone else. Since then Richard has been an active participant in everything society has to offer. Rose and Rich ensured that he had a good education, while providing opportunities for him to participate in sports and enjoy social and
recreational activities in the community. As an adult, Richard has, through employment services provided through UCP Seguin, been able to work in a gainful, productive, meaningful job. And as his father gratefully affirms, Richard wouldn't be who he is today without UCP Seguin.
Throughout their many years of involvement with the organization, the Smiths have been faithful financial donors in support of UCP Seguin's programs for people with developmental disabilities. These gifts have ranged from regular monthly contributions to support for the agency's special events. Since Rose's passing some years back, Rich has carried on her legacy of generosity. But their history of advocacy and involvement in the cause of people with developmental disabilities is wide and varied. When Richard was nine, the Smiths were one of seven families that joined together to found the original West Suburban Special Recreation Association. Their efforts provided Richard the chance to play organized sports, including basketball, softball and bowling. Since 1997, Rich Smith has acted as the Moonlighters DJ for the WSSRA social club's quarterly special events. In addition, Richard has played basketball with the UCP Seguin Penguins Special Olympic team for many years. It goes without saying that Richard and his dad are avid sports fans, from the Cubs to the Sox, from the Bulls to the Blackhawks, and they are season ticket holders to the Chicago Wolves hockey games. UCP Seguin provides Richard an outlet for him to partake in his passion for sports and all its fun, and all its glory.
Rich and Rick reside in their Oak Park home, which serves as home-base for Rick's full and diverse life's activities. From home Richard goes to his daily job through the auspices of UCP Seguin, which has provided employment services to Richard, including job placement and job coaching. He capably and reliably provides the internal mail services for UCP Seguin's Carr Center, sorting, organizing and distributing mail without supervision.
Buoyed by his son's successes, his wife's memory, and his own zest for life, Rich Smith personifies the spirit of philanthropy, a spirit that that continues to make UCP Seguin such a preeminent organization serving people with disabilities.