Richard N Scheck & Family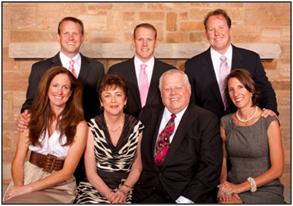 Among the most bighearted – and most humble – supporters of UCP Seguin, Richard N. Scheck exemplifies the true spirit of philanthropy in all its facets. His compassion for people with developmental disabilities is evident through the many ways he has contributed to the cause.
Introduced to the organization through his friendship with major UCP Seguin supporters Al and Terry Carr, the former North Riverside Mayor has had an immense impact of the lives of UCP Seguin program participants. Each holiday season for the past nearly two
decades Mayor Scheck has provided personal gifts to as many as 450 individuals served by UCP Seguin. For the agency's Capital Campaign to renovate the Carr Center, UCP Seguin's main center of life skills training services, Mayor Scheck utilized his Scheck Industries business connections, securing significant donations of goods and services from major Chicago-area unions. The Painters District Council Number 14 and the Sprinkler Fitters Union Local 281 contributed nearly $200,000 in donated services through Mayor Scheck's efforts, rendering the Carr Center both safe and beautiful.
Through his role as municipal leader he facilitated the donation of bicycles to persons with disabilities, from collections of unclaimed bikes through the North Riverside police. He welcomed UCP Seguin to the North Riverside community with open arms, when we bought and started operating a group home
in his community. To honor him in 2009 we named this home, which serves as
residence to six individuals with developmental disabilities, the Scheck House.
This extraordinary spirit of generosity extends from the entire Scheck Family.
In 2010 UCP Seguin opened The Betty Scheck Senior Center, in memory of
Betty Scheck, the late wife of Mayor Scheck and beloved mother of Rick, Mike,
and Chris Scheck. The entire Scheck family, Rich and Judy, Rick and Megan, Mike
and Kate, and Chris Scheck donated Rascal's Restaurant, which UCP Seguin quickly
converted into a senior center, serving as a lasting tribute to Betty Scheck.
Mr. and Mrs. Scheck were married for 29 years and lived in North Riverside, where
Mr. Scheck had been the dynamic longstanding mayor. The Schecks have always
felt that they should give back to the community and Mrs. Scheck held a deep
concern for seniors and the issues that their families face. Mrs. Scheck had cared for Mr. Scheck's mother who had Alzheimer's for several years before her mother-in-law's death. Therefore, Mrs. Scheck realized the many concerns that individuals must face as their relatives grow older. The late Betty Scheck lost her life to cancer in 1997. Mrs. Scheck was very active in the North Riverside community. Her positive attitude and involvement in the crusade against cancer as a volunteer with the American Cancer Society touched many lives. Her family honors her spirit and her commitment to finding a cure for this disease each year with the Betty Scheck Shuffle.
As wide-ranging as his philanthropy extends, Mayor Scheck is modest about his many accomplishments. He is a man of such quiet and conscientious demeanor, but whose compassion speaks so loud and clear…and people with disabilities served by UCP Seguin are all the richer for his lifetime of giving.