Maureen & Paul Rurka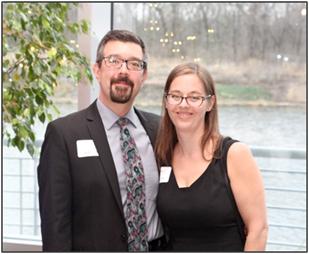 Maureen and Paul Rurka have long and productive relationship with UCP Seguin spanning the past more than two decades. Both started their connection with the organization in 1990s as hardworking social services professionals, Maureen as an Employment Training Specialist in the Community Employment department and Paul as the Assistant Director of Adult Services and Residential Living.
After leaving what was then Seguin Services, Maureen moved on to secure her law degree from Northwestern University, subsequently joining the prestigious law firm of Winston & Strawn in Chicago, where she specializes in complex patent, antitrust and commercial matters. Maureen and the Winston & Strawn team have provided major beneficial counsel and legal services to both Seguin Services and UCP Seguin. The significant pro bono guidance and expertise provided by Winston & Strawn was crucial to the merger in 2013 that created UCP Seguin of Greater Chicago.
Maureen also gave her time and talents to serving on the Board of Seguin Services from 2004 to 2013. Maureen's knowledge and dedication to serving people with disabilities has proved invaluable over her the past 20+ years. Paul, in the meantime, moved on from his committed service as an agency employee, partnering with Maureen to support the cause in multiple ways.
From their home perch with their children in Riverside, Maureen and Paul have contributed to UCP Seguin financially with sponsorships for special events, contributing to Capital Campaign drives, and making other substantial gifts. The Rurkas have also been advocates for UCP Seguin in both their home and business communities, sharing the mission of the agency and encouraging others to give. They are one more shining example of persons devoted to philanthropy in the many ways it can be expressed.