John Miniutti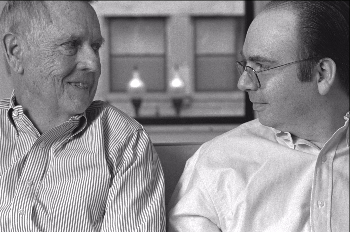 John Miniutti has a wealth of expertise and successful business experience. But most of all John has a wealth of kindness, informed by the loving relationship with his late son Fritz. In 2011, John sought an effective organization to provide supports for Fritz, his son with disabilities who resided with him in their River Forest home. With UCP Seguin John found a willing partner in providing Fritz a range of services to make his life more productive and meaningful. At the same time John wanted to be an advocate for his son and other families of individuals with disabilities. In 2012 he joined the agency's Board, providing his keen insights to ensure excellence in the organization's programs, finances, and administration. But beyond his time and talent John has provided so much more, generously donating of his treasure to help sustain UCP Seguin's innovative services to individuals with disabilities.
John has a distinguished education and an accomplished career. He earned a BME and MME from Cornell University and an MBA from New York University. He has a wide-ranging business background, from
being an executive with the international software firm A3Logics to Vice President-Consulting for Burroughs Corporation as it transformed into Unisys Corporation. At the same time he is uniquely humble and approachable, a quality well-suited to his role on the UCP Seguin Board and now with the UCP Seguin Foundation.
Sadly, John's son Fritz Miniutti passed away in August 2014. Fritz was an intelligent and active man who had many interests, including going to the gym, working with computers, watching movies, dining out, playing with pets, and working, either at the local theater or as a volunteer for the office of State Senator Don Harmon, and also on behalf of UCP Seguin at the ReelAbilities Chicago Disabilities Film Festival led by UCP Seguin. Fritz and the Miniutti family had lived in a variety of states but moved to River Forest where he and his father could be close to his sister Michele and her family. Fritz received Life Skills Training, Employment and Respite services from UCP Seguin, and he was able to access community social-recreation venues with a UCP Seguin staff member who became a good friend to him.
Imbued with his love for Fritz, John has been a generous financial donor to support UCP Seguin's programs. He sees the gifts of his time and his resources as going hand in glove to ensure the success of the agency that gives so much to individuals with disabilities in the community, region, Illinois and beyond. He has been a staunch and active advocate for the cause with state legislators and other government officials. In the past year John has volunteered as a member of the Succession Committee to help guide that process as UCP Seguin plans for its future. Through these years of dedicated service and giving, John Miniutti has been a philanthropist in every sense of the word, keeping individuals with disabilities served by UCP Seguin foremost in his thoughts and deeds.