Joe Mengoni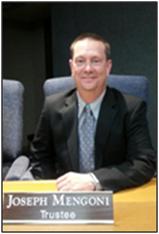 Joe Mengoni has dedicated much of his life to persons with developmental disabilities served by UCP Seguin. In the 28 since years since Joe started at the organization, he has filled many roles, taking on ever more responsible positions in rapid succession. As with many top executives at UCP Seguin, Joe began in the "trenches", providing direct services to program participants with severe and profound disabilities. He was particularly adept at working with persons with behavioral challenges, offering carefully calibrated interventions to assist these individuals in becoming more fully integrated into their communities. Given his early success at the agency, Joe was promoted through the ranks, from Home Manager to Community Living Administrator, from Director of Residential Services to Vice President of Residential and Clinical Services, a position he has fulfilled since 2002. In his current role, Joe oversees a vast constellation of more than 70 homes for more than 280 individuals in 27 communities, ensuring safe, happy and loving homes for adults with disabilities. He also provides expert supervision for adjunct residential services such as respite and supported living arrangements, with home-based support services, case management, and clinical services also under his wing.
Joe's commitment to the cause goes well beyond his work as a UCP Seguin employee. Over his many years of service, he has enriched the lives of people with disabilities by donating his time and personal resources to help them fulfill their dreams. He has made significant financial donations to UCP Seguin, while also facilitating for program participants activities that make their lives meaningful, productive, and enjoyable, such as vacations, baseball games, and otherwise – Joe steps in to make their dreams of living within their communities come true.
His spirit of generosity is not limited to UCP Seguin. Answering the call for public service, since 2013 Joe has served as a Trustee for the Village of North Riverside and before that on the Village's Library Board. Using his skills and deploying his resources across a broad spectrum of efforts – as a committed UCP Seguin employee, as a dedicated public servant, and as a charitably minded individual – Joe Mengoni is one more sterling example of philanthropy at its best.