Joe Geoghegan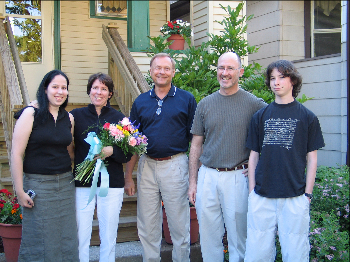 Joseph A. Geoghegan Jr. Joe, or "Duke" as he is affectionately known to his family and friends, is an Oak Park resident, an architect and President of Robert G. Lyon & Associates, and the loving husband of Joan and father of Marissa, Maureen and Patrick. He and his wife Joan have recently become happy grandparents to a beautiful baby girl. But beyond their loving commitment to family and friends, Joe and Joan have given more than two decades of their lives in loving commitment to UCP Seguin and the people
with disabilities it serves.
The "philanthropy" provided to UCP Seguin by the Geoghegans has been longstanding and wonderfully varied. Joe served on the organization's Board for ten years, four years as Vice President and the entire period as chair of the Building & Grounds Committee, and a long tenure as member of the SEGUINWORKS Advisory Committee, giving guidance on the agency's fledgling social enterprises. He also was a member of the Finance and Development Committees – a further testament to his total dedication to the agency's organization sustainability. Through Joe's expert guidance, staff associated with his architectural firm donated detailed plans for design of the new Seguin Auto Center, where people with disabilities are employed in the sale of donated autos as well as car-washing and detailing.
Joe his skills as an architect were vitally needed to assist UCP Seguin's expansion of residential services. He provided significant oversight of an ever-increasing number of homes to ensure they were safe and accessible for residents with disabilities. Through services donated from Robert G. Lyon and Associates, Joe oversaw the redesign of the third floor of the Carr Center. His firm ultimately provided the architectural plans for the major capital renovations to the Carr Center, which stands as a model environment where people with disabilities can be engaged in productive, meaningful activities. In short, Joe has worked tirelessly to insure that UCP Seguin's homes and program centers are safe, accessible, and functional for people with disabilities.
But Joe could not do all of this outstanding work alone. His wife Joan has joined him in consistently providing significant financial contributions to UCP Seguin, through direct donations as part of special appeals, and through their support of agency special events. Both have been steadfast advocates for UCP Seguin within their home community and with private and public funding entities. Even after departing the Board in 2004, Joe has continued his donation of time, talent, and treasure to UCP Seguin, with Joan an equal partner in this immense demonstration of generosity.
Due to this dedication and commitment to enriching the lives of persons with developmental disabilities, Joe was honored in 2004 with UCP Seguin's highest honor – the naming of a group home in Oak Park, known forevermore as "The Geoghegan House". As a testament to their ongoing devotion to the cause, Joe, Joan and their family have provided annual holiday gifts to the gentlemen who reside in the Geoghegan House. Joe and Joan Geoghegan are true exemplars of the spirit of philanthropy…and for this UCP Seguin and the people with disabilities we serve are especially grateful.