Jerry & Pat Parker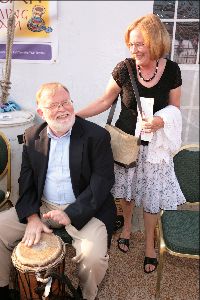 Jerry and Pat Parker have been inextricably linked to UCP Seguin since 1997 when their son Dan began residential and day services. Dan has significant developmental disabilities, using a specially designed wheelchair while receiving intensive services to enable him to enjoy all life has to offer. Both Jerry and Pat worked ceaselessly to bring a better quality of life to Dan but also to his house mates and to all the participants served at the organization. Jerry, who passed away in 2008, was a stalwart agency volunteer, coaching the Seguin Penguins Special Olympic teams for several years for which he was recognized with the "Special Assistance" award at the annual Gala. Pat served faithfully for more than 13 years in the agency's Children's Foster Care program as the Educational & Transitions Services Coordinator, ensuring that children with special needs were getting the best educational supports.
Jerry and Pat made their own generous contributions of time and treasure to the organization, but also through special fundraising activities involving their charitable family and friends. These efforts included assuming the leadership of the Capital Campaign to renovate and reconstruct the Carr Center, build Seguin Gardens & Gifts, and raising tens of thousands of dollars for the Capital Campaign including the construction of the Snoezelen Room, a sensory experience room for people with severe physical, emotional, and cognitive disabilities. In addition, they hosted a party in honor of their son Dan's 30th birthday raising much needed funds to support innovative programs. Pat has teamed with her brother Steve Kirby to conduct several events to memorialize Jerry and her late son Sean, including the Parker Porker Pig Roast for two years, raising nearly $35,000, and several memorial fundraisers with proceeds in excess of $25,000 at the White Sox Diamond Suite to benefit people with disabilities served by UCP Seguin.
Pat continues to support the UCP Seguin cause, combining her enthusiasm for the cause with the legacy of her late husband Jerry and son Sean to bring "life without limits" to people with disabilities. The Parker Family of Jerry's heritage and the Kirby Family of Pat's heritage have enriched the lives of individuals with disabilities served by UCP Seguin, a commitment recognized with UCP Seguin's highest honor: the naming of one of its group homes, located in River Forest, now known as the Kirby-Parker House. UCP Seguin and people with disabilities continue to benefit from the spirit of compassion and dedication of Jerry and Pat Parker.