Dawn & Brian Caden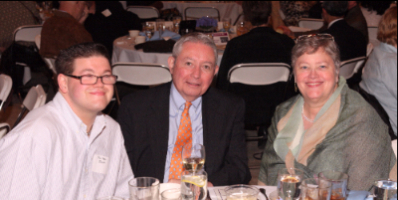 Brian and Dawn Caden have been among UCP Seguin's most loyal, dedicated, and consistent donors. Their contributions span across several areas, from financial support to volunteer help, from in-kind donations to bringing their friends and neighbors into the UCP Seguin family of donors. But at the heart of their commitment to the organization is their amiable, generous and joy-inspiring son Peter.
In the late 1990s Brian and Dawn were, like so many other parents of persons with developmental disabilities, seeking an opportunity for Peter to participate fully in adult life through the auspices of a well-run community organization. Having recently graduated from Oak Park-River Forest High School, Peter and his parents were anxious for him to secure such services. Fortunately for them Seguin – now UCP Seguin – was able to fill that role. While Peter was able to participate in the agency's employment and life skills training programs, the Cadens also sought a residential placement – a home where Peter could essentially grow into adulthood, learning skills away from regular parental oversight. Through tireless advocacy the Cadens were successful in making that happen. Now Peter lives in a UCP Seguin home in his home community, where he works at a local restaurant and his parents can stay well-connected to him.
The net result is that UCP Seguin has been the beneficiary of the Cadens' kindness and support. Their motivation to give to UCP Seguin is rooted in all UCP Seguin has done for their son Peter, and the many other individuals with disabilities UCP Seguin serves. The Cadens have been loyal financial donors to UCP Seguin, making regular contributions and attending UCP Seguin fundraising events. Dawn has contributed substantial time to serving UCP Seguin, serving on the Seguin Services Board of Directors for nine years, while also playing a major role on the Program Committee – a role she continues to perform for UCP Seguin. For much of her time on the Program Committee she served as Committee Chair. In addition, for several years Dawn has provided tremendous volunteer help to Seguin Gardens & Gifts for their off-site sales in Berwyn and Oak Park. The Cadens have hosted small fundraising events to benefit UCP Seguin, including a yard sale last summer. Peter has also been a regular volunteer for the UCP Seguin cause as part of agency special events.
Beyond their multi-faceted donations, the Cadens act as advocates for people with disabilities and for UCP Seguin in the community. When Howe Developmental Center was closing, Dawn went to the Center to talk with parents to tell them that her son was receiving wonderful care through UCP Seguin and that their children would greatly benefit from that same opportunity to live in the community. Through their ongoing encouragement, the Cadens have generated a stream of contributions to UCP Seguin from their family and friends, from financial donations to furniture and otherwise. In these and many other ways, the philanthropic efforts of Brian, Dawn and of course Peter Caden have been a marvelous support to UCP Seguin and the over 1000 individuals we serve.