Anthony & Hollie Miezio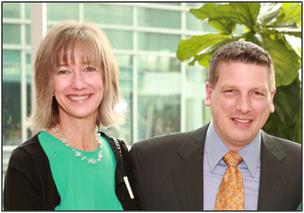 Anthony Miezio has been a long-time and active volunteer, donor and Board member with UCP Seguin. Tony was first introduced to the organization in 1991 by Board member Stanley Patek. Using his expertise in insurance and other financial management tools, he worked with accounting staff to help establish retirement accounts for agency employees.
With his ever-present positive energy and enthusiasm, Tony was recruited to serve as chairperson for many years' worth of Seguin Mustang Raffles, resulting in significant fundraising support for agency programs serving people with developmental disabilities. While Tony was a dynamic volunteer and supporter of the UCP Seguin cause, he also helped to secure event major sponsorships through his employers.
Tony and his wife Hollie have also assisted in obtaining funding for UCP Seguin through local organizations such as the Riverside Junior Woman's Charity. His skill-set includes a broad knowledge of the insurance industry, risk management and resource development. As a result, he has advised the Board and staff in the areas of his expertise, assisted with retirement planning for the agency staff, and counseled the agency when UCP Seguin received donations of life insurance. In addition to these efforts, Tony served as a member of UCP Seguin's board for four years.
Tony's philanthropic instincts are many and varied, as he continues to give back to his community in multiple ways, most recently as president of the Riverside-Brookfield High School Educational Foundation. We are proud to include Tony and Hollie Miezio among UCP Seguin's most ardent supporters and dedicated contributors.