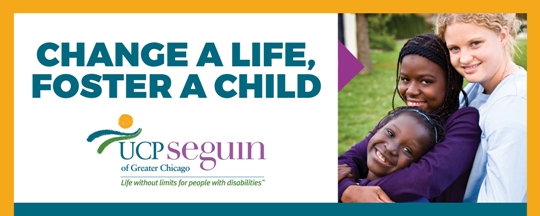 UCP Seguin is looking for Chicago area residents interested in becoming a Foster Parent to attend out next Foster Parent Orientation Night.
UCP Seguin provides foster homes for children, from birth to 21 years of age, who are medically fragile or have developmental disabilities in conjunction with behavioral challenges. UCP Seguin also supports the foster child's brothers or sisters who have traditional care needs. Ages range from birth to 21 years. UCP Seguin foster parents participate in pre-licensing training and receive individualized support that is unique to UCP Seguin. This training program includes orientation to licensing standards and rules, medical and behavioral aspects of children, CPR and First Aid training, and the UCP Seguin philosophy of teamwork. Annually, each foster parent completes a program of continuing education and training.
Come learn about how you can change a life by fostering a child on Monday, September 11th from 6:00-8:30 pm at our Tinley Park location, 7550 W 183rd Street.