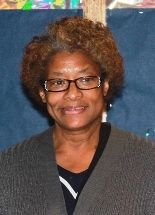 Joyce Haney
"Paying" Attention
It is not necessarily common to work with many people who no matter how busy they might be, never appear to be rattled or worried or impatient. People with this disposition are really few and far between. There is definitely a person like this at UCP Seguin.
Over the years, Joyce Haney has made sure that our paychecks are accurate; that we are paid what we are owed and if there are problems, she helps to solve those problems. She has been there to patiently help us understand, to kindly remind us to turn things in, to be available to quietly listen and to wisely provide perspective. Inarguably, Joyce is great at her job. But Joyce is so much more…
We have all had a question about payroll at one time or another and regardless of what deadlines might be looming on the horizon for her, Joyce Haney has calmly answered us morning, noon, and night. We have interrupted her without giving it a second thought and she has given us her undivided attention and made us feel as if our question was the most important question in the world. She is busy just like all of us are, but she is always patient, kind, helpful, and available. Always.
Joyce Haney is someone that works quietly behind the scenes making sure we all get paid but her gifts to UCP Seguin far surpass her talent with numbers.
On behalf of all of us at UCP Seguin, thank you Joyce for all that you do and congratulations at being chosen for the "Paying" Attention award! You are a Shooting Star!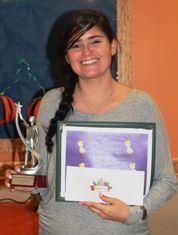 Amanda Raimondi
"A+ for Advocacy"
At UCP Seguin, we are all advocates. We have a legal, moral, and ethical obligation to be the voice for those who are unable to speak for themselves.
When Amanda Raimondi learned of the less than ideal living situation of a young man who was receiving respite services, she quickly acted as any good case manager would do and began advocating.
To give some perspective on the living situation of this individual, it's really important to understand that he was isolated to one small room with no access to appropriate bathroom facilities. His room was infested with bugs and his bathtub was nothing more than a small basin just big enough for a person to soak his feet in. Even though his living conditions were not good, they were familiar and he was with his family. So as far as he was concerned, he was fine.
Amanda worked tirelessly getting to know this person and his family. She met with them countless times and it became clear to her that she really needed to show him that he had other options and that he was a grown up and it was ok to start looking for his own place away from his family. Eventually, together they found a perfect new home for this person with minimal disruption in his relationships with his family members.
A comfort zone is a beautiful place, but nothing ever grows there. Because of Amanda's diligence and commitment to supporting this individual to make some important life changes, he is blossoming in his new home.
Amanda, congratulations. You get an A+ for Advocacy. You are a Shooting Star!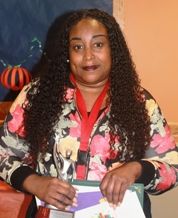 Michelle Reynolds
"A Marvelous Thing"
The holidays can be a happy time for many and a stressful time for many others. But whatever feelings about the holidays any of us might have, wanting to make someone else's holiday wishes come true is often on our agendas.
Last December, Residential Services Manager Michelle Reynolds was given a bag full of donated gifts for the guys who live in a CILA home that she oversees. The bag was loaded with DVDs, Xbox games, clothes, and even an iPad! Her guys were going to have an amazing Christmas morning with gifts piled high under the tree!
As she set about unpacking the bag full of presents, Michelle noticed that there were none for Ed. This made sense to her and she knew that he would likely be getting gifts from his family. His housemates, on the other hand, receive gifts that are donated by generous staff and community members. Michelle wanted to make sure that when they woke up on Christmas morning, ALL of the guys would share in the excitement of opening their gifts together and that nobody would feel left out of the festivities.
She was on a mission to create a magical holiday and so she set out on a whirlwind shopping spree and bought shorts, socks, shirts, and new shoes to wrap up and put under the tree for Ed to open up on Christmas morning. Michelle did even more; she bought Ed his favorite toy - a slinky. And she didn't buy him just one; she bought him five!
Michelle's initiative and generosity, her spirit of giving, helped to make Ed's holiday wishes come true. We thank you, Michelle, on behalf of Ed and all of the people whose lives you touch. What you did is a "Marvelous Thing" and you are a Shooting Star!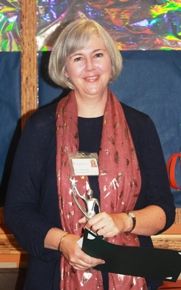 Anne McElaney
"A Trellis of Support"
"She is an awesome supervisor"; "She talks to me about my coping skills"; "She talks to me about keeping busy on the weekend"; "She keeps me on track" ;"She is kind to customers."
These are some of the things that LaTina McCoy wrote in the note that she submitted to the Shooting Star Selection Committee. This is how LaTina McCoy describes Anne McElaney.
Anne spends most of her time at Gardens and Gifts. Her actual job title is "Sales, Procurement, and Fulfillment Specialist". That sounds like she's mainly responsible for determining purchasing needs for the store. In theory, that is true. But in reality, Anne's title and her job description don't even begin to tell the story of what she does at UCP Seguin.
LaTina McCoy needed to figure out how to cope with stressors in her life. Anne was well aware that LaTina had periods of time where she was really struggling with personal issues. The two women had regular discussions about ideas for functional and healthy ways that LaTina might keep herself busy, especially on weekends. As an avid reader herself, Anne thought that perhaps LaTina may benefit from going to the library and losing herself in books. After learning about LaTina's interests and helping to assess her reading level, Anne then researched titles that LaTina might enjoy and provided her with a list of books to read. Imagine Anne's pride when LaTina showed up at work one day with her very own library card and a book that she had selected herself!
Anne and LaTina have discussions about what LaTina is reading and they celebrate when she finishes a book and chooses a new one. Anne's consistent support has contributed to LaTina's success. She provides encouragement when LaTina is confronted with life's challenges and together they celebrate LaTina's victories.
If you were to ask her what Anne does at work, LaTina wouldn't tell you about purchasing and sales, but she would tell you about how much her friend Anne has helped her through some rough spots in her life. She would also tell you that she wanted Anne to win a Shooting Star Award.
Anne, on behalf of LaTina McCoy and everyone at UCP Seguin, thank you for your work at creating "A Trellis of Support". You are a Shooting Star!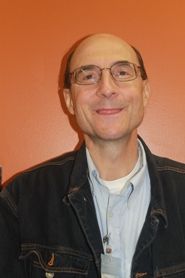 Terry Strakalaitis
"A Loyal Lifesaver"
How do you convince someone who has been doing his own thing nearly every day of his life that he should see a doctor, attend a meeting, accept some support that he didn't think he needed?
You build a relationship, that's how.
When Terry Strakalaitis first started working with him in March, Chuck was not even interested in talking to him and certainly was not interested in staying home for a meeting to discuss what supports Chuck might benefit from. In fact, the day that the two were scheduled to meet for the first time, Chuck left his house before Terry even got there!
Terry decided that it was up to him to build a trusting relationship with Chuck first and then confront issues, like Chuck's lack of medical care, second. He began to meet up with Chuck in the places that Chuck liked to hang out in the community. Their relationship quickly progressed to the point that Chuck allowed Terry to walk with him, while Chuck rode his bike, to his neighborhood haunts. Terry regularly updated the team on progress.
Eventually and recently, Chuck visited a doctor and had blood drawn, which may not seem like a big deal, but for Chuck it sure was monumental.
Terry's patience and insight allowed Chuck the opportunity to accept support on his own timetable. He learned to trust Terry and he trusted Terry because Terry took the time to get to know Chuck and he, in turn, allowed Chuck to know him.
While getting Chuck to a doctor's appointment would be a typical job duty of a Home Support Specialist, empowering Chuck to ultimately make the decision to take better care of himself by doing nothing more than providing guidance and support is not necessarily typical. In fact, Terry's kindness and genuine concern for Chuck and who he was as a person is exactly why Chuck eventually went for a check-up.
We thank you, Terry, for giving Chuck the chance to lead a healthier life and for being his friend and support over the last few months.
Just last Friday morning, very suddenly, Chuck collapsed in one of his favorite Berwyn locations; the 7-11 on East Ave. and 16th St. He passed away shortly after.
Chuck was a fixture in his neighborhood. Everyone knew him. I went to 7-11 that morning very soon after Chuck was taken to the hospital via ambulance and Terry was there; he was driving Chuck's shocked and grieving sister around to Chuck's hangouts so that they could break the sad news. Terry's support for Chuck's sister, who is elderly and not in the best of health, is an example of his character. Chuck is one lucky guy to have had Terry in his life, even for a relatively short time. Terry made the last few months of Chuck's life healthier and happier and I am sure that his support also gave Chuck's sister some peace of mind.
Terry has been with UCP Seguin for a long time; 22 years, in fact. He has touched the lives of many in his tenure here and we are grateful for all that he does to enrich the lives of people with disabilities and are thankful for the support he has provided to their families over the years.
Thank you, Terry, for being "A Loyal Lifesaver". You are most definitely a Shooting Star.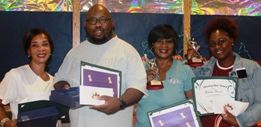 Elzena Bowers, Ian Bowyer, Artavian Herrod, Leonard Maniece, Mary Green
"Circle of Life"
How does one go about comforting someone who is nearing the end of his or her life? Such a thing doesn't come with a manual or a set of directions and how could it, since it is so specific to the person who is dying. In order to understand what a person might need, caregivers have to listen with their hearts.
Although he had always been fiercely independent, Elzena Bowers, Ian Bowyer, Artavian Herrod, Leonard Maniece, and Mary Green knew that Guy was going to need more care than he ever had needed before and so they set about making that happen. This group of dedicated staff arranged their schedules so that someone was with Guy around the clock. They shopped for him, cooked for him, cleaned for him, helped him to bathe – all things that Guy had always done for himself. Sometimes, when Guy was in excruciating pain, staff would simply hold his hand and rub his back to let him know that someone was there with him. You couldn't go a day without several of this group just stopping in to check to make sure there was nothing Guy needed. Although he could no longer speak, they all knew that he appreciated them being there.
On December 14, 2016, while surrounded by his family and the staff who had become like his family, with soft music playing and everyone praying together, Guy took his final breath.
It didn't end there; these staff continued to support Guy by being there for his fiancé, for assisting his family to make funeral arrangements, by shopping for the suit in which Guy would be laid to rest. They gave their personal cell numbers to Guy's family and encouraged them to call if they needed anything, even just to talk.
At his memorial service, Guy's family expressed their gratitude for each of the staff who had been so devoted to making sure that he was able to leave this life peacefully and with dignity.
On behalf of UCP Seguin, thank you to the five of you (Elzena, Ian, Leonard, Artavian, and Mary) for being there for Guy and for his loved ones during this difficult time. It is not lost on anyone that caring for someone at the end of their life takes an emotional toll on you as caregivers. Guy was so lucky to have all of you.
You were there for Guy when he completed his "Circle of Life". You are all Shooting Stars.
A special shout out to Amber Grzeda, who was also part of this team! Thanks for all you do!