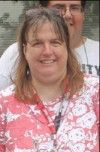 Therese Giefer
Caring off the Clock
A case manager's job is to promote independence and personal growth, to support and advocate, and to assist the individuals on his or her caseload to lead the lives they choose.  While these are big responsibilities, they are standard ones, and are part of a typical 8-hour workday of a case manager in the adult program at UCP Seguin. No doubt it's an extremely important and sometimes very stressful role.
A few short weeks ago, carwash employee Danny Temponaras made it a point to ask for assistance in nominating Therese Giefer for a Shooting Star award. In Danny's words, "Therese is an awesome case manager. She helps me with all the stuff I need. She takes me to the doctor and she helps me with renewing my bus card. I know that she doesn't have to help me with these things, but she does it because she wants to help me. She's cool and funny. Therese is really fun and she listens to you. She likes the same things I like. If I have a problem or I want to talk to her, I can just talk to her. If I'm upset, I go tell her what's wrong and she tells me how to deal with it and not hold it in. I meet with her every week for talking time. Therese is really helpful. Sometimes she gives me a ride home. I don't think there is a replacement for her. She really likes her job and she really wants to help others. That's why I think she's the best Case Manager. I hope she wins the Shooting Star award because she really, really, really deserves it. She does a lot of stuff for me and this is a way I can pay her back."
Therese Giefer is only Danny's Case Manager when it comes to employment services. There is no further expectation or obligation. So when Therese helps Danny do the things that he talked about in his nomination, she is doing this on her own time because she wants to help Danny to get the things he needs and to be successful. When Therese and Danny laugh together or meet weekly for "talk time", or simply discuss things that they have in common, they are simply enjoying each other's company. Therese does the things she does because she cares about Danny.  Therese is what some people would call a "natural support". Danny would undoubtedly call her a friend instead.
On behalf of Danny, and on behalf of Markita Harris, Michelle Janicek, Andrea Straney, and Grace Walls who all had some input on Therese's nomination, and on behalf of the entire agency, I congratulate Therese Giefer for being chosen as the recipient of the "Caring off the Clock" award by the very individuals whose lives she has impacted so positively!
Tahlilya Glass
We Are Family
Fitting into the neighborhood isn't always an easy feat for residents who live in CILA homes. When people hear the term "group home", unless they have had firsthand experience, they likely have a preconceived notion about what that term means and as a result, may not even want to take the time or make the effort to learn.
We use catch phrases such as "community integration", "natural supports", "active treatment" to describe what we work to help the individuals that we serve strive for and ultimately achieve. Simply put, these phrases really just describe being part of a neighborhood, having friends, learning new things, leading a rich and full life. Some of the individuals served by UCP Seguin would not be able to do those things on their own. They need for staff to help them to be part of their community and to have friends.
Tahlilya Glass is the Residential Services Manager at 621 Hannah. Over the years, Tahlilya,  or" TeTe" as she is better known, has done so many things to make sure that the individuals at 621 are part of their neighborhood and "fit in" on their block. Last summer, TeTe had a great idea that she thought would help the neighbors not only get to know the individuals who live at 621, but would be an opportunity for everyone to get to know each other while having a good time. She took the initiative to figure out if there was a block captain on Hannah and when she learned that there was, to seek out that person and introduce herself and suggest , in her friendly, genuine, and persuasive way, that they work collaboratively to plan a block party. The block captain thought TeTe's idea was a fantastic one and helped her to obtain the necessary permit to have a block party! The residents of 621, their families, friends, staff members, and many neighbors all got together for a day full of food and fun. TeTe even made sure there was a bouncy house for the neighbor kids. Calls of gratitude from families and neighbors poured in, all in praise of TeTe's efforts.
TeTe has worked to get to know the neighbors, helping them to recognize the individuals at 621 for their abilities and not their disabilities. If the neighbors at 621 had any preconceived notions of a group home before the block party, those ideas were undoubtedly different after they spent a fun-filled day with the staff and residents of 621 Hannah.
On behalf of the individuals at 621 and the agency in its entirety, I congratulate Tahlilya Glass for being chosen as the recipient of the "We Are Family" award.
Nancy Mares
Keeping it Together
UCP Seguin's Carr Center is a whirlwind of activity starting at 8:30 every morning and not stopping until after 3:30 each afternoon. There are routine things that happen daily and as we all know and have likely experienced, there can be unexpected happenings nearly as often. And if the right players aren't on deck, unplanned events can be catastrophic!
When the adult nursing department experienced a swift, sudden, and completely unexpected surge of unfortunate events to its staff that resulted in a department that is best kept running by the collective efforts of 7 full time nursing staff , things looked grim.  With three on unexpected leave of absence and two open positions, it was a bit of a mystery; how were just two full time nurses going to manage to ensure that there were no gaps in medical care for the individuals served while at the same time making sure that routine things, such as medication distribution, lab duties, stocking equipment, ordering supplies, completing billing were also kept up with? Who was going to take the lead?
Nancy Mares stepped up to the plate. For three months, completely unsolicited, Nancy took the lead. She not only made sure that her own work was done, but she also followed up on the tasks of the CNA, her co-worker, and her supervisor. Again, she did this all without being asked; she did it because no matter how hectic things got, no matter how much she and her co-worker had to do every day, Nancy's central focus has always been the people served by UCP Seguin. That is what drives Nancy. She would never allow for anyone to go without care. She would never ignore a plea for help. She is a nurse and she is an advocate. Nancy hit it out of the park!
In her 28 years with UCP Seguin, Nancy has demonstrated unwavering devotion to the individuals served and is relentless in making sure their needs are met, regardless of the less than ideal circumstances that someone with her tenure surely has experienced more than once!
On behalf of the agency, I congratulate Nancy Mares for being chosen for the "Keeping it Together" award.

Rochester Purnell
Being a Friend
Any one of us may have known someone or may admire someone so very much that we aspire to be like that person. Whether near or far from us, maybe just maybe, if we are patient enough and very fortunate, we might have the opportunity to really have that person in our lives. Here at UCP Seguin, whether or not we've consciously paid attention, most of us have had the pleasure to be witness to such a relationship.
For many years, Rochester Purnell, aka Rock, has informally worked side-by-side with two individuals served by UCP Seguin. Rock has provided these two men, who clearly not only admire him but genuinely like him, with encouragement, support, and job training that has helped them to become active members of the agency's maintenance team. Just as important, Rock has provided them with a friend.
Rock's two protége's, Kenny and Anthony truly demonstrate that imitation is the sincerest form of flattery. Kenny proudly wears a huge bunch of keys as he makes rounds with his dear friend Rock, working next to him making weekly rounds checking on things such as light bulbs that need replacing and taking inventory. Anthony is just as proud as he stands back to admire the great job he has done sweeping and mopping the floor; Rock has helped Anthony to be more confident and as a result Anthony has improved both his work and his social skills and is successfully employed by a local small business where he cleans a couple of times each week to earn some spending money.
Rock has been with UCP Seguin for twenty years and will celebrate his retirement in December. He has quietly made a difference in the lives of so many people, both individuals served and staff.
On behalf of all of those whose lives he has impacted, and the agency as a whole, I congratulate Rochester Purnell for being chosen for the "Being a Friend" award.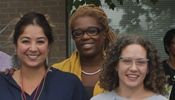 Deva Suckerman & Dalina Rangel
The Dynamic Duo
Walt Disney said, "All your dreams can come true if you have the courage to pursue them." The part that is missing in that quote is that sometimes, the pursuit of a dream requires the selfless assistance of others.
Alex, Candace, Anthony and Laura are four courageous dreamers who have competed in the Special Olympics Boccia tournament at the state level for over 20 years. As good of a team as they are, and although in past years they had qualified to advance to the next level in their competition, they knew and reluctantly accepted that they would never travel further as a team because directly in front of them were what looked to be an insurmountable number of barriers. Too many barriers to list, really.
This shooting star walked into the lives and talked to the families of these four Olympians and convinced them to allow their adult children to have the incredible experience of traveling together with friends and competing as a team. The families agreed, and trusted Blanca Munoz to assist their children to explore life on their own, with just their peers. Blanca arranged for them all to travel together, herself and other staff included, on an 11-hour road trip to Kansas, where the four excited athletes made new friends, reconnected with old friends, and became a part of the national Boccia community.
This is what life looks like for Alex, Candace, Anthony, Laura, and many other adults with disabilities now that Blanca Munoz is part of their lives. Thank you, Blanca, for helping four people to not only pursue but to finally realize their dreams. You are a true shooting star!

Mario Vera
Hidden Treasure
Some people just see the potential in the things around them. They see value in what others find worthless.  
Not everyone at UCP Seguin works in program services, but it's probably safe to say that if you work at UCP Seguin, it brings you some satisfaction to do something nice that helps to enrich the lives of the people that UCP Seguin serves.
Mario Vera does not work in program services. He is the agency's Maintenance Coordinator. But Mario does nice things for people. He does nice things all the time.
A couple of months ago, some worn out tables were removed from the art center. They were not in good shape and would likely just be tossed into the garbage. Mario saw the tables and he had an idea for repurposing them that would be good for the environment because the tables wouldn't end up in a landfill and would also bring joy to the program participants. On his own time, following his own vision, Mario transformed the old tables into something brand new. When Mario was done working his magic, those old tables were game tables, complete with checkerboards and tic-tac-toe boards.
Mario doesn't always have the opportunity to do something that so directly impacts the lives of the people UCP Seguin serves, but he is thoughtful and kind to all. In this case, he gave real meaning to the saying, "one man's trash is another man's treasure." The participants enjoy their new game tables, a real treasure, almost daily.
Congratulations to Mario Vera, chosen for this year's "Hidden Treasure" award, and thank you for everything that you do to enrich the lives of the people that we serve.

Mary Waters
Behind the Curtain
If you remember the classic movie "The Wizard of Oz", you likely remember that the wizard did a whole lot of work from behind his green curtain in the Land of Oz. The people were confident that he would help them get the things they needed and would also keep them safe. Rarely did anyone see the wizard.
Mary Waters is the "Wizard of Day Services". She has not only been the invisible backbone of a fluid team of coordinators, helping to keep things organized and moving along as needed, she has been the unofficial "go-to" trainer for all new staff. When she can't do something herself, she always knows who to ask for help.
While on paper Mary is responsible for the oversight of group rooms 1 through 5, you need only to look at the Battle of the Voices or the Art Show that Mary organizes every 12 weeks to understand the scope of her self-imposed responsibilities. And we certainly can't talk about Mary without mentioning the fact that she is the founder of "UCP Seguin Idol". This event is entertaining for those who attend as spectators, but the amount of planning and work that goes into making it happen in the first place is monumental. After helping to pick out songs for the performances, Mary assists in putting together the programs, acquiring the awards, and preparing and providing the music so that the participants can carry it home with them and rehearse. She assists with costumes and set design. UCP Seguin Idol is an event that for the past 10 years has brought joy to so many and also has been instrumental in helping to build confidence in many of the individuals UCP Seguin serves because participation in this event required people to step out of their comfort zones and into the limelight. For the past ten years, Mary very quietly has done much of this on her own time. Like the wizard.
Dozens of people who would never have dreamed that they would be getting up in front of an audience to sing have been stars for a day. Many staff in day services have a supervisor, a mentor, a trainer, a friend who they count on to be their sounding board for so many different situations.
Mary has created opportunities for the people we serve and has made dreams come true for many. On behalf of the agency, I congratulate Mary Waters for being chosen for the "Behind the Curtain" award!