Dwight Sanders
Person-Centered Support
When it comes to this shooting star, at least weekly and usually more often than that, someone can be heard spontaneously remarking, "I wish we could clone him." When people say this they are not joking.
This shooting star has been called "the rock of day program." Not only does he go above and beyond the call of duty on a daily basis in many different ways, he is creative, insightful, perceptive, and he has a natural gift of relating to our participants. About a year ago, one of our participants was truly struggling to adjust to his day program. He had recently experienced many life-changing events and he was really having a hard time. His struggles were serious, often leading to unsafe situations for him and for the staff. The team determined that this participant might be successful at the Carr Center and decided that he would move there in the hopes that he would be happier and would feel less stress. Of course this was yet another change for someone already struggling because of changes and everyone was cautiously optimistic about the move at best.
Dwight Sanders recognized that this person was struggling and he empathized. He spent extra time and put in much effort to help this person feel welcome, to feel safe and supported and as a result, to be more successful than anyone would have thought was possible just a year ago. Since he began working with Dwight, this participant has been so much happier, is safe, and rarely seems at all stressed. What an enormous, positive impact Dwight's care and concern has had on this man's life.
We aren't sure how to clone another human being. At least not yet. But when we figure it out, this shooting star will be at the top of the "TO BE CLONED" list! Thank you, Dwight Sanders, for everything that you do to enrich the lives of the people that we serve. You are now TWICE a shooting star!

Willa Alexander
Safety
Safety first is the motto of some people all of the time, whether at work or clocked out, whether in the building or in the car driving home after a busy shift at work.
When she left the Carr Center on one bright and sunny day, this Shooting Star was not expecting to stop her car until she was parking it at home. Her plans suddenly changed when she saw an ambulance on the side of the road and noticed that the person climbing into the ambulance was a participant in UCP Seguin's day program!
Willa Alexander immediately pulled over and walked over to the ambulance. She explained that she was from UCP Seguin and confirmed with the paramedics that the participant was ok – it turned out that he just had a bloody nose – and then she contacted the Carr Center to make sure that the staff was informed of the incident.
This is but one example of Willa's attention to safety and her concern for the participants and how that care and concern doesn't end when she leaves the parking lot but is who she is, all the time, 24 hours a day and 7 days a week. Willa, we thank you for all that you do to keep our participants, staff, and visitors safe. You are a Shooting Star!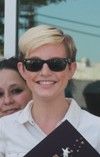 Maggie Hicks
Person-Centered Support
Cinderella would not have made it to the ball without the assistance of her devoted Fairy Godmother.
This past March, as people were really starting to experience cabin fever after a long, cold winter, some UCP Seguin staff thought that it would be a lot of fun to organize a prom. It would be great to give everyone the opportunity to get all dressed up on a Saturday night and get out with their friends to dance and have a nice dinner. But what would everyone wear?
Maggie Hicks immediately began asking her friends, families, everyone she knows, if they had any bridesmaid dresses or other formalwear that they would be interested in donating. Many people were happy to help! Maggie brought in somewhere in the neighborhood of 40 dresses, along with shoes, purses, jewelry, and about 20 suits for the men!
On that chilly Saturday evening in March, over 200 beautifully dressed, bedazzled, and coiffed UCP Seguin participants arrived at the Carr Center for an evening of enchantment. The evening's theme, "Frozen in Time", that included beautiful sparkling decorations, a delicious dinner prepared by the staff in Portillo's learning kitchen, and hours of dancing, was a huge success. Maggie's husband graciously donated his time and expertise to professionally photograph everyone with their dates, so the evening really is "frozen in time".
A big thank you to Maggie Hicks, a Shooting Star and UCP Seguin's own, real-life Fairy Godmother!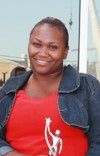 Likisha Walker
Safety
Everyone ran to the windows on the afternoon of July 10th when they heard the unmistakable squealing of tires on the pavement outside of the Carr Center. Time came to a virtual standstill while bystanders helplessly watched as one of the program participants darted out onto Central Ave., into traffic, with a Dodge Ram truck bearing down on him with little chance of it stopping in enough time to avoid a tragic collision. A resounding "bang" was heard all through the building and everyone inside, without really seeing what was happening, was certain that a devastating event had just taken place right outside.
On that afternoon, Likisha Walker risked her own safety when she ran into traffic after the program participant and pulled him out of harm's way. While he did make contact with the side of the vehicle because he ran into it, he sustained zero injuries. Had Likisha not responded so instinctively, this frightening incident would undoubtedly have had a much different outcome. Even though this event was certainly stress-inducing, she remained visibly calm throughout the ordeal and as residential staff prepared to leave to take the participant to the hospital for a check-up just to be sure that he was truly ok, Likisha requested that she be contacted that evening with an update on his condition.
Likisha's quick thinking, lightning-fast response, and obvious concern for the people we serve is commendable. She exemplifies the policy phrase, "intervenes during emergencies to prevent /reduce consumer injury." Likisha Walker is a shooting star!
Blanca Munoz
Community Integration and Active Treatment Excellence
Walt Disney said, "All your dreams can come true if you have the courage to pursue them." The part that is missing in that quote is that sometimes, the pursuit of a dream requires the selfless assistance of others.
Alex, Candace, Anthony and Laura are four courageous dreamers who have competed in the Special Olympics Boccia tournament at the state level for over 20 years. As good of a team as they are, and although in past years they had qualified to advance to the next level in their competition, they knew and reluctantly accepted that they would never travel further as a team because directly in front of them were what looked to be an insurmountable number of barriers. Too many barriers to list, really.
This shooting star walked into the lives and talked to the families of these four Olympians and convinced them to allow their adult children to have the incredible experience of traveling together with friends and competing as a team. The families agreed, and trusted Blanca Munoz to assist their children to explore life on their own, with just their peers. Blanca arranged for them all to travel together, herself and other staff included, on an 11-hour road trip to Kansas, where the four excited athletes made new friends, reconnected with old friends, and became a part of the national Boccia community.
This is what life looks like for Alex, Candace, Anthony, Laura, and many other adults with disabilities now that Blanca Munoz is part of their lives. Thank you, Blanca, for helping four people to not only pursue but to finally realize their dreams. You are a true shooting star!
Ana Aguilar-Soto
Person-Centered Support
At UCP Seguin's SeniorCares homes, the focus is on catering to the needs and desires of our aging population. Staff members work hard every day to create activities and plans to ensure that the residents' golden years are meaningful and happy ones despite the health issues and age-related conditions that some of the residents are suffering with.
Residential Services Manager and licensed beautician Ana Aguilar-Soto knows that it helps people to feel good when they look good. So to help keep our seniors feeling good, she regularly holds spa days for the ladies of all of the SeniorCares homes. The spa days are days of pampering and include fresh haircuts, new hairstyles, manicures and pedicures. At the end of the day, the ladies look and feel great. They feel special, important, and beautiful.
Ana's supervisors describe her interactions with the residents as gentle, kind, and caring. For our seniors, who are so dependent on the staff for things that many of us take for granted, Ana's commitment to making their lives brighter is monumental. Thank you, Ana, for your commitment to the dignity of our seniors. You are a shooting star.