Kevin Key
Person-Centered Support
This Shooting Star's actions often go unnoticed because that's the way he intends it to be. He doesn't want recognition; he just wants to be part of helping teenagers find their way in this world.
Raechel is a teenager who until she became part of UCP Seguin's specialized foster care program in 2011, had never been to school, had been isolated from her community, and had rarely celebrated any special occasions. Raechel had never, in her entire life, felt important and wondered if she would ever have the opportunity to make her mark in this world.
Last September, Raechel had a birthday. She had worked hard for two years and as a result, had experienced many triumphs including significant academic success. All of this for a girl who didn't even know if she'd survive childhood let alone turn 18. But she had survived, she was an adult of 18 years old, and she was determined to do something amazing with her life. And on that day in September, Raechel received a gift in the mail. It was the first time anything like that had happened to her. There was no card, no name. Who was this how-to book about cooking from? She had no idea.
Kevin Key has been an advocate for teenagers for over 25 years and he is just the kind of unassuming person who would send an anonymous gift! It was him! Kevin confessed that he sends all of the teens a gift on their birthday. He said that he tried to pick out a book that would be helpful to them as they learn to find their way in this world. Some kids receive books about budgeting, others might receive a cookbook. All of them receive something that is designed to enrich their life.
Kevin's sending anonymous gifts to kids on their birthdays is just one example of the rare humility to which he marches. His random acts of kindness and thoughtfulness are a joy to witness. Kevin Key, thank you for everything that you do for the kids served by UCP Seguin. You are a true Shooting Star!

Leonard Maniece
Person-Centered Support
Having the opportunity to mourn, to have closure when someone dies, is important to most people. There may be differences in the way in which this is achieved, but regardless of a person's faith or lack thereof, we are all affected when someone we have been close to passes away.
The SeguinCares program was created as an alternative residential option for seniors that would allow its residents to retire, get involved in some recreation and leisure activities in the home, and to live out the rest of their days in a low-key, slower-paced, peaceful environment. This includes UCP Seguin staff providing end of life care to the residents and in some cases, connecting with hospice for comfort care for residents who are terminally ill.
Staff members who work in the SeguinCares program are a dedicated group of people who have accepted the responsibility of providing care to people who may not live long; some of them are already dying when they enter the program. How do you not get attached to people that you are caring for day and night, people you are laughing with often and sometimes crying with? Staff who have devoted themselves to embark on an end of life journey with residents have an extremely difficult time when there is a death. So do the other residents living in the home.
Pastor Leonard Maniece has been there time and time again to help guide staff and residents of the homes and their families through the sorrow and tears to a place where the grief does not prevail but more importantly the good times, the laughter, and the successes are celebrated. Leonard has gracefully offered to conduct memorial and remembrance services each and every time there is a death in the SeguinCares program and in other homes and the day program, too.
The lives of many individuals have been paid special tribute with Leonard as a guide. He brings with him a strong sense of peace, acceptance, and helps UCP Seguin staff, participants, and family members rejoice in the lives of those who are lost.
Leonard's responsibilities at UCP Seguin do not include acting as minister. He is a Community Living Coordinator in the Residential program. However, when he officiates a service, he is no longer a Community Living Coordinator but instead is a Pastor who is there to provide guidance and support. Whatever role he is playing, Leonard is always a part of the team at UCP Seguin. He is a true Shooting Star!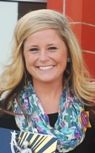 Beth Vana
Teamwork
Teamwork is defined as cooperation between those who are working on a task. This is a basic, dictionary definition of a word but it is a concept that is anything but basic!
Cooperation is essential to a healthy team and a willingness to cooperate stems from the relationships that people establish with each other. Without positive relationships, cooperation doesn't exist. In order to have relationships, team members must learn things about each other. For a team to be functional and successful, there must be respect for individual contributions, clear communication, and compromise. It is not always easy to be a member of a team. It is often downright hard to be the leader.
Even though they had all been working closely together in the same building for several years already, when day services staff learned that a merger of Seguin Services and UCP of Greater Chicago was going to happen, some were really worried and felt that there was a separation between the two organizations. There existed an "us" versus "them" feeling that just didn't go away. People were concerned about what the merger would mean for them, for the participants, and for the future of the organization. It was an unsettling time for many.
As a day services leader, Beth Vana helped to bridge that gap, insisting and ultimately convincing the members of her team that the merger was really just a formality; a business arrangement. There was never any difference between the people served by UCP versus the people served by Seguin and certainly no distinction between the staff at each organization.
Although it was often not easy, Beth helped to make the transition after the merger a fairly seamless one for day services staff. Her consistent communication, her insistence that we were all always working toward the same mission, and her willingness to lend a helping hand, listening ear, or a shoulder to cry on to anyone who needed it then and needs it now has been instrumental in creating a "we are family" culture in day services.
Her commitment to the participants and staff, her enthusiasm to get the job done, her loyalty to the agency and the mission, and her consideration for the members of her team during good times and stressful times make Beth a Shooting Star!