Francee Henley
Respect and Advocacy
Although we may see the professionalism, the tireless advocacy, the dedication, and the empathy with which staff at Seguin do their jobs every single day, it's not often that outside entities see the same thing. It's certainly rare that those entities make it known to us when they not only recognize but also appreciate exemplary performance by our staff. On June 29th, a letter came to Seguin from the Office of the Cook County Public Guardian. Here is what the letter said:
"As the Guardians ad litem and attorneys for (three siblings), we have had the pleasure of working with Francee Henley. Since September, 2009, Ms. Henley has served as case manager for the children. The family's dysfunction and the case's complexity required a case manager with incredible diligence and dedication. Ms. Henley surpassed all expectations.
She managed this case with a degree of intelligence, professionalism, and empathy that far exceeded "reasonable efforts". If not for Ms. Henley's involvement, the children's physical and emotional welfare would have been at risk.
Ms. Henley should serve as an example for all child welfare professionals. She deserves to be recognized for her outstanding advocacy and professionalism. Her ability to effectively testify, to initiate services, and to maintain a working historical knowledge of the case has yet to be replicated by any other case manager we have worked with.
We hold Ms. Henley in the highest professional regard and her involvement with the (children) has been invaluable. She is an asset to your agency and a too rare example of excellence in child welfare."
On behalf of the children on your caseload, your supervisors, and all of Seguin, we thank you Francee Henley, for your dedication to the people served by the agency. You are truly a Shooting Star!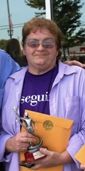 Terry Porter
Community Integration and Active Treatment Excellence
There are staff members who are always looking for new ways to challenge the participants of Seguin. Terry Porter is one of those staff. She is always ready and willing to "push the envelope" and is open to trying out non-traditional activities and therapies. She consistently uncovers areas for participants to experience new opportunities.
In August 2006, Terry began working closely with BraveHearts Therapeutic Riding Program in the development of a horseback riding program and other activities that she felt would be beneficial to the participant's of Seguin's day program. People with disabilities riding horses? Absolutely! Terry was convinced that there was a way that this could happen.
Funding from the Arthur Foundation, provided to BraveHearts, supported Seguin's participation in the program. This money covered the cost of a leased PACE vehicle, staff PACE training, and vehicle insurance so that Seguin participants could be transported to BraveHearts by Seguin staff. Terry made sure that getting participants to BraveHearts to participate in both horseback riding as well as therapeutic recreation was a priority.
Terry's dedication to making this work has benefitted several participants of Seguin. Because of her work with BraveHearts, four individuals who receive services from Seguin will be participating in the national equestrian Special Olympics in October this year! Without Terry's tireless effort and her determination, this would not have been made possible.
BraveHearts in only one example of Terry's commitment to the people served by Seguin. Her consistent determination to improve the lives of people with disabilities, whatever the odds, is what makes Terry a Shooting Star! Thank you, Terry, for carrying out Seguin's mission each and every day!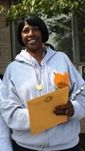 Alberta Cokley
Person-Centered Support
It was the beginning of the Thanksgiving weekend, 2011. Everyone was hustling and bustling around, getting ready for the big day. The holiday season is a busy time in residential services; people are packing for home visits, staff are starting to cook meals - it's an exciting time of year. This year, amid the activity, there was an emergency and a home needed to close immediately, leaving its residents without a place to call home for the holiday. This was going to be particularly difficult for one of the individuals and Alberta Cokley was not going to accept it! When she heard this news, she immediately jumped right in and said, "Rosie can come home with me. She can stay until you find her another shared living arrangement, however long that takes". Alberta then went over to the home where Rosie had been living and helped her pack up her things. She loaded her into the car, and off to Alberta's house they went.
For nearly two months, Rosie lived with Alberta in her home. Alberta readjusted her entire life to make sure that Rosie was at the day program on time, had her meals on schedule, took her meds as prescribed, and on and on. Never once did Alberta neglect any of her responsibilities as Residential Services Administrator, either! She somehow managed to balance everything!
Alberta knew this situation was going to be hard for Rosie and she wants Rosie to succeed, so opening her home to Rosie was just a natural solution to Alberta. Alberta works at Seguin because she loves the individuals she works for and with and truly wants nothing more than for them to achieve success and happiness in their lives. She does whatever she can to make that happen. Because of her dedication, Rosie was able to continue to be happy and has since enjoyed a successful transition to her new home with new shared living companions.
Alberta is the epitome of a Shooting Star. Her selflessness and concern for not only Rosie, but for all of the people served by Seguin, is absolutely commendable. Thank you, Alberta!

Devon Bernard
Person-Centered Support
We take for granted our ability to hear the birds sing, the rain fall, a train bouncing over the tracks, the melody of music piping from the speakers in the car. We don't think about what it would be like to not hear these things because we've always been able to. But Stephanie doesn't know what it's like to hear any of those sounds because she was born with a conductive hearing loss and has never been able to hear anything.
In 2012, Stephanie's case manager heard about a new surgery that may allow people who have hearing loss the opportunity to hear. This was not a one-step process, though, and certainly not everyone would be deemed appropriate to have the surgery. Through her case manager's tireless efforts, however, Stephanie WAS approved to have the surgery. Part one of the operation was done by a surgeon at UIC. This was an ordeal for Stephanie and her case manager. Through numerous infections of the surgery site and countless follow-up appointments, Devon Bernard was with Stephanie through each step. On December 30, 2011, the last step of the procedure was completed and the sound processor was attached to Stephanie's implant. On the way back from the hospital, Devon saw Stephanie dancing to the music in the car and Stephanie was finally able to hear a train bouncing along the tracks. For the first time in all of her 31 years of life, Stephanie was hearing at 100% capacity within normal conversation range.
Devon's supervisor praised her for her efforts with Stephanie and Devon's response was. "thank you so much for the recognition but Stephanie is the biggest champion I have ever known because she sustained an incredible ordeal with the utmost patience, understanding, physical, and emotional endurance. Stephanie is definitely an inspiration".
Devon Bernard is the kind of person that makes you feel good to be at work. She is a true advocate for all of the individuals on her caseload and has enhanced the lives of many people. Using her own words to describe Stephanie, Devon is a champion and an inspiration. And definitely a Shooting Star!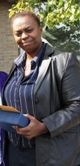 Tiwana Jordan
Coaching and Mentoring
One of the most difficult challenges in Children's Foster Care is returning children home to their biological parents. In most cases, these kids have been removed for their biological parents for some serious reasons. Whenever possible, the goal is to help them get back home to their families.
In order for this to happen, it is absolutely imperative for Seguin's permanency workers to clearly communicate expectations to parents so that there is no room for misunderstanding. There can be no "bargaining room" when it comes to training and visits that are required for parents trying to get their kids back.
Tiwana Jordan, affectionately dubbed "The Return Home Queen", makes it her business to ensure that there is no confusion about what needs to be done. because of her tireless efforts with the kids and the biological parents. Tiwana has returned seven children home this year! This is unheard of! Not only have six kids gone back home to their mom and dad, three of the DCFS cases have been completely closed and the other cases, three siblings, are back home with their mom and their cases are expected to be closed, too.
Tiwana's successful return to home record is due largely in part to the fact that the biological parents know that Tiwana means business. Tiwana takes the reins and guides the court process rather than allowing the courts to take full control.
We thank you, Tiwana, for your efforts on behalf of our children and look forward to you continuing to support and enhance the lives of the children served by Seguin. You are a Shooting Star!