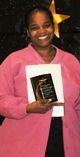 Michelle Robinson-Sturghill
Person-Centered Support
The Annual Fashion Show in the Children's Foster Care Department is a BIG deal! It takes lots of planning, lots of preparation, and lots of support for the kids who are SOOOOO excited each year to be part of this event. This person is a Child Care Manager and her main responsibility is to supervise staff who provide respite for foster families. However, she volunteers each year to be the chairperson of the fashion show committee and this involves so much more than simply finding a venue and ordering refreshments. This dedicated employee's greatest focus is on making the day memorable for the children served by Seguin and she will do whatever it takes to make sure the kids feel special and confident. She makes it her business to not only inspire the kids with her cheerleading, but also to ease the anxieties of the kids who are scared, shy, or nervous about being the center of attention. During rehearsal prior to last year's fashion show, one of the children was extremely frightened to walk – she had just learned how. This shooting star practiced with the child over and over again, encouraging the child and working to convince her that she walked beautifully. She reinforced this with the child over and over again, not really sure if she had truly convinced this child that she would do well but hopeful that some of her words had sunk in and would make a difference. On the day of the show, this child did not need the pep talk that our Seguin star was fully prepared to give to her; in fact, she was thrilled to be there! As she predicted again and again at practice, the child climbed up on that stage and walked, smiling and full of confidence, without a hitch. She inspires the children on a daily basis – her standard response to hesitancy by the kids is "YES YOU CAN"! The envelope please?
And the shooting star award goes to…Michelle Robinson-Sturghill

Richard Biggins
Community Integration and Active Treatment Excellence
To say the least, this man has a soft spot in his heart for the developmentally disabled population. In the course of the past year and a half, this employee has diligently worked on a special project that has benefitted many of Seguin's participants. But first, some history. There is a British punk rock band called Heavy Load. Some of Heavy Load's members are developmentally disabled. This band's performances have been labeled "Stay Up Late" and the audiences of their shows include both disabled and non-disabled adults. It has become a huge event. This shooting star became the lead in a group whose goal was to set up a similar event in the Chicago area. Initially there was a lot of leg work involved and many contacts to be made. Among this dedicated staff person's contacts was a group of his friends who graciously agreed to have their band perform at Seguin's first "Night Out". He was also able to book another local group in which most of its members have a developmental disability and was able to rent out an area restaurant for the event. He even ensured a film crew was in attendance and did a photo shoot! The "behind the scenes work" is endless! Thanks to all of his efforts, participants of Seguin as well as those receiving services from other area agencies were able to enjoy a night out of dancing, partying, and socializing with their friends. Needless to say, the event was a success and actually received a write up in one of the local community newspapers. There have been several additional "Stay Up Late" events since the first one, each one offering Seguin participants the opportunity to enjoy a unique social event in which they can further develop current friendship and even make new ones! His work to enhance the lives of participants is a demonstration of his commitment to his work, the lives of the people he serves, and the agency. The envelope please??
And the shooting star goes to…Richard Biggins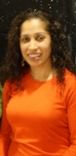 Ana Solares
Person-Centered Support
Although she was hired as the Greenhouse Manager, she has become so much more! While she has gone way above and beyond in her managerial duties, including seeking out and securing all the plant and landscaping material sold at the Garden Center from vendors that can provide us the best quality at the best price, this exemplary employee has exceeded all expectations when it comes to working with the people served by Seguin. She, along with her team, have been presented with some real challenges that have required very creative job development. Because of the efforts of the Greenhouse staff, under her leadership, meaningful jobs have been created for two participants with severe mobility issues and while others may have been skeptical about the employability of these two ladies, this person feels that everyone is employable! In order to make sure that the experiences of the ladies is meaningful, this shooting star has even enlisted the assistance of other participant employees. In addition, she also spends a lot of her time leading classes for not only our participants, but also for the community. She makes sure to plan classes that are relevant to the season and prepares handouts for each attendee to take home. This dedicated staff person is also extremely enthusiastic in leading the greenhouses' "Kidz Klub" activities the first Saturday of each month as well as leading horticulture activities in area schools. By reaching out to children, she is simultaneously teaching about horticulture while also marketing the Garden Center to the parents of the children. She is an asset in all aspects of the Garden Center and because of her true dedication to Seguin's mission, she and her team have developed jobs and activities that will enhance the growth, development, and well-being of the participants. The envelope please??
And the shooting star award goes to…Ana Solares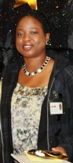 Wunmi Watley
Person Centered Support and Advocacy
A true supporter for the gentlemen she works with, this person goes above and beyond in her position as a Home Support Specialist. For the past 4 years, she has been working with a gentleman who lives independently and is active in the community. She helps to support his choices and assists him to coordinate his activities so that he can be involved as he chooses to be. Her efforts have allowed him the opportunity to usher at his church, be an active member of the Knights of Columbus, Holy Name Society, and God's Special People. This past year, the gentleman expressed a desire to return to school and take GED classes. This employee, as she always does, is working to help him achieve this dream. He is currently enrolled at Moraine Valley Community College in Palos Hills. She attends classes with him to ensure that he fully understands the lessons of the day and assists him with homework. He will be starting his second semester this month. In addition, in November of last year, the person she supports was scheduled to go out of town with his family. His plans suddenly changed and he decided to stay home. This shooting star immediately called her supervisor and canceled her own vacation so that he would not be without support. She demonstrates that the well-being and happiness of the person she supports are her top priority. She works from the heart, is loyal, and provides a support system that is strong enough to give him the confidence to go after his dreams. He considers her a friend and has stated that she is "the best respite worker I ever had"! The envelope please??
And the shooting star award goes to…Wunmi Watley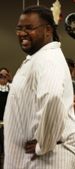 William Dillard
Person Centered Support
Some people come to work and do a really good job with their regular responsibilities. Some people come to work thinking of ways to enhance and enrich the lives of the participants. In 2007, this person volunteered to assist with the creation of Seguin Idol and has since taken over this event and helped it to evolve into the amazing production that it has become. Participants love it! The excitement starts months before the actual show! And this is not the only thing that this employee has taken ownership of. He willingly took on the challenge of creating an eye-catching, informative newsletter that he titled "The Buzz", a publication that is sent to family and friends of Seguin participants that keeps them informed of what is happening in Day Services by both reading the creative, well-written articles and enjoying the wonderful photos that he so artfully puts together. His reputation as a photographer and a DJ has gotten out and he has volunteered his time at some of the "Stay Up Late" events. Although his talents are vast, he has chosen to use them to make the lives of the people served by Seguin more fulfilled and just more fun. Currently, he is working on putting together a "user-friendly" version of Seguin's strategic plan that will be used to inform our participants about the things we are working toward in ways they can more easily understand. His all-around good nature, creativity, and dedication to the people we serve are shooting star-worthy! The envelope please??
And the shooting star award goes to…William Dillard