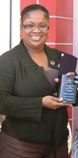 Janita Harris
Person Centered Support and Advocacy
We all have to rely on the diligence and communication of staff between departments in order to ensure that the continuity of care given to our participants is not interrupted. This is especially important when it comes to observations of "out of the ordinary" behavior or appearance of our participants. Janita, who is not a nurse, does that routinely. She demonstrates a true talent for not only making crucial observations, but also communicating those observations to the right people. If she is not satisfied with the initial assessment, she seeks out another. Janita did just that in February of this year when she noticed that one of the participants didn't seem right; he looked tired and didn't want to take his medications. Both of these things, amongst a few others, didn't sit well with Janita. She took this participant to nursing and asked if maybe the participant was having a stroke. He was sent to the emergency room to be assessed and was hospitalized for a week following a small stroke. It is absolutely critical for people to be seen immediately if stroke is suspected and because of Janita's keen observations and quick response, there was no delay in care for this participant. Nursing even said, "…this is not the first time that Janita has had good medical insight. If it was up to me, I would have her work in my office anytime. Thank her again for me". A similar incident occurred with another participant, who was also quickly diagnosed as having a stroke. Two people immediately received treatment for a serious medical condition that may have gone unnoticed had Janita not had her "medical radar" up and running.

Cecelia Herrera
Person Centered Support
It takes a certain kind of person to be able to work with participants who have serious, chronic mental health issues. You have to be patient, understanding, consistent, empathetic, and available all the time. Cecilia is that kind of person. She has made two participants, both of whom have extremely challenging mental health issues, a part of her extended family. She routinely goes out of her way to make sure that these participants are safe and always is available to provide crisis intervention to them and also lends a shoulder to cry on for their families. She understands the importance of consistency with the participants and keeps them engaged in activities. This engagement improves their mental health. In fact, Cecelia has, on two different occasions (both without much notice), become an "emergency shared living companion. This is but one example of Cecelia's dedication to the participants and her selfless response to unforeseen circumstances. Cecelia has made it known to the participants and their families that she is always just a phone call away and has been known to drop whatever she may be doing to respond to crisis situations. She consistently gives of herself to do her best to make sure the participants that she works with are safe and happy.

Bernadette Jackson
Person Centered Support and Active Treatment
So Seguin has this beautiful training kitchen. There were tumbleweeds blowing across it and dust was gathering on the shiny stainless steel, industrial appliances. Bernadette saw that this wasn't right at all and took it upon herself to change it! Since November of 2009, she has taught numerous valuable lessons to our participants in the art of food preparation and presentation. With her guidance, participants have begun to prepare meals independently, including making sandwiches, baking cookies, putting together entire meals for Seguin's Board of Directors, and also making bark bone treats for dogs! And if the cooking isn't enough by itself, Bernadette has also taught our participants that presentation is important; they are arranging fruit trays like pros! The best part of Bernadette's initiative is that she has empowered our participants with phrases such as, "there is no such thing as "I can't"" and "yes you can, you just have to figure out what works best for you!" As far as safe food handling, Bernadette has that covered, too. All of the participants follow her lead and now come into the kitchen and immediately put on an apron and a hairnet and wash their hands. She is big into teaching safety, too. If you ask a participant who works with Bernadette "what happens when you spill something?", the response will be, "need to wipe it up so someone does not slip and fall". "Why do you wear gloves?" "to help keep the germs off the food that we touch". Bernadette sees ability and potential in all of the participants, no matter their challenges, and encourages participation by all who are interested. You can often hear Bernadette saying, "it doesn't have to be perfect yet. You are still learning. As you learn more about your job, your skills will improve and the only way to do that is to try."

Nartarsha Pryor
Person Centered Support and Safety
Nartarsha has always made certain that she knows the participants that she is working with. She is in-tune with them, picking up on differences in body language, behavior, tone of voice and in the event that she notices that something doesn't seem quite right, her intuition kicks into high gear. One night in July, shortly after her shift began, Nartarsha did bed checks and discovered that one of the participants was moaning – it wasn't the usual kind of moaning. It sounded to Nartarsha like the participant was in pain. Nartarsha pulled the covers back and immediately noticed that the participant's abdomen was distended and that her skin was cold and clammy to the touch. She also noticed that she had vomited. Nartarsha called 911. At the hospital, it was discovered that the participant had an extremely serious medical condition that required immediate emergency surgery. Had Nartarsha not been so observant with the participant she works with, she probably would not have even noticed that the moaning that she heard that night sounded different than usual. She may have not felt it necessary to check again. But Nartarsha DID think it was necessary. If she had not, this participant may have died in the home that very night. Because of Nartarsha's quick response, this participant had a chance to live.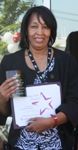 Carolyn Whitaker
Advocacy and Safety
Nurses are SUPPOSED to help people and save lives, right? Nurses do this every single day. But…are nurses supposed to take it a step further and do their best to make sure that unsafe incidents don't repeat themselves? Maybe not, but that's what Carolyn Whitaker did! After a foster child had a seizure on the school bus, Carolyn was concerned that the monitor on the bus didn't know how to respond to this emergency. She worried that if there were a more life-threatening emergency, would the bus driver or the monitor know how to react? Carolyn made it her business to look into the situation further and found out that the monitor of a bus full of children was not trained by the bus company in CPR. She took it upon herself to arrange for and facilitate a meeting with the staff from the school and the bus company to address this issue. Because of Carolyn's initiative, the bus monitors are now trained in CPR. All of the children who ride the bus are safer because of Carolyn's advocacy.