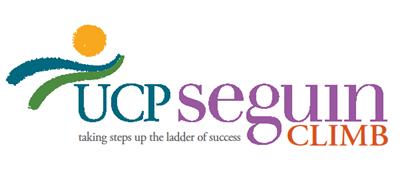 The UCP Seguin CLIMB Program is designed to meet the needs of young adults with disabilities graduating from high school, to support them in meeting the challenges of adult life. Having closed its sheltered workshop in 1989, UCP Seguin has long championed community-based services designed to provide productive, meaningful activity for persons with developmental disabilities. Through the UCP Seguin CLIMB Program, UCP Seguin is offering its innovative services to DuPage County and surrounding communities.
Taking Steps Up The Ladder of Success
UCP Seguin CLIMB is modeled closely after educational programs in which students participate during their school careers. Participants in the UCP Seguin CLIMB program are provided with a full range of day services to enrich their lives and promote their personal growth. Within UCP Seguin CLIMB, program participants engage in Life Skills and educational training such as:
~ Mathematics, banking and real life money skills acquisition
~ Science
~ Health
~ Reading
~ Computer literacy and safety
~ Community safety
~ Cooking
~ Planning
~ Exercise and Movement Therapy
~ Art, dance and music enrichment
~ Horticulture Therapy
~ Daily living skills enhancement
~ Communications and social skills training
~ Use of the Snoezelen Sensory Room, a specialized space designed to either heighten sensory experiences or calm individuals who experience emotional challenges
~ Special community activities to provide real-life experiences and interactions with non-disabled individuals


In addition, individuals are offered vocational training and employment services, including:
~ Food preparation and other vocational skills training in the Portillo's Learning Kitchen
~ Job readiness training and job placement in community work-sites
~ Vocational training and volunteer opportunities in community venues


For information on the UCP Seguin CLIMB program, call 708.222.4606 or email Jesse Castro.