In June 2012, UCP Seguin (then Seguin Services) welcomed 18 former residents of Jacksonville Developmental Center to residential services and employment and training programs. The Jacksonville facility was closed last year as part of Illinois Governor Patrick Quinn's "re-balancing" efforts, which are designed to reduce costs while providing excellent services to individuals with developmental disabilities in community settings. Through UCP Seguin's "Community Connections" efforts, these 18 individuals now reside in UCP Seguin's homes integrated into the community neighborhoods. They have their own bedrooms and decorate them as they desire, and help plan their own meals and their own social activities. UCP Seguin has also provided them with opportunities for employment and life skills training, thereby increasing their self-esteem and self-reliance. In short, they are learning to make their own choices and enjoy life in a community setting, not an institution.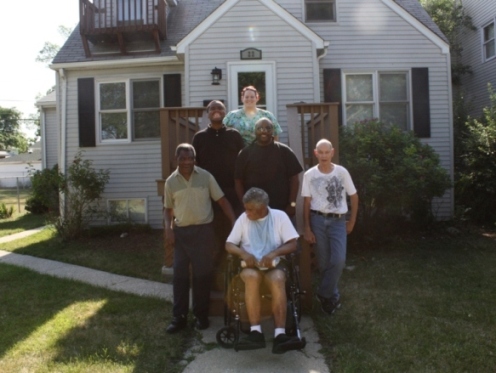 These men are: David, Dony'a, Roosevelt and Doanel. Moving to UCP Seguin's community-based housing has given them an opportunity to live life in a neighborhood and work in a community setting just like their neighbors do. They are able to have their own bedrooms gaining privacy, visit with family members in the area regularly, go fishing, and look for work to earn their own money.
David, Dony'a, Roosevelt and Doanel now live in this beautiful six bedroom home within walking distance of the lovely downtown La Grange community. The staff who work in their home are pictured with the residents: Jerry Williams (House Supervisor) and Tara Moseley (DSP). The house is fully wheelchair accessible while maintaining all the common amenities of other neighborhood homes and incorporating safety features to benefit the residents, like fire safety sprinklers.
UCP Seguin Receives Residents from Jacksonville
New UCP Seguin Residents, former Jacksonville Residents, Visit Chicago Auto Show
Moving Forward. . .Transition to Community Living